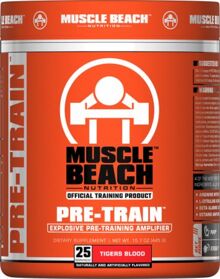 Muscle Beach Nutrition Pre-Train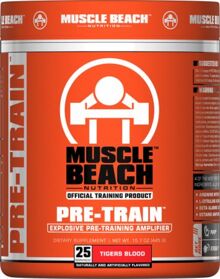 Muscle Beach Nutrition Pre-Train
NO3-T
ARGININE NITRATE
CARNOSYN
BETA-ALANINE
BETAINE
ANHYDROUS
L-CITRULLINE
PRE-TRAIN is the must-have pre-workout supplement that all elite Muscle Beach Athletes are using to fuel their intense workouts.*
Preload with PRE-TRAIN before any training session and get ready to push, pull, sweat, and grind harder, faster, longer, and stronger than ever before!*
INCREASE
ENERGY*
INCREASE
MUSCLE ENDURANCE*
IMPROVE
ATHLETIC PERFORMANCE*
FUEL
MUSCLE GROWTH*
ENHANCE
STRENGTH*
INCREASE
VASODILATION*
PRE-TRAIN does not contain any substance banned by the NCAA, IOC, WADA, or any mixed martial arts, bodybuilding, powerlifting, or weightlifting federation, or by the U.S. Armed Forces.
All Muscle Beach Nutrition products are tested at the toughest proving ground in the world, the legendary epicenter of strength and fitness - California's Muscle Beach Venice Gym.
When it comes to supplementation, our elite athletes know that Muscle Beach Nutrition is the only name you can trust to deliver the most cutting-edge, innovative, and highest quality products.
If you want that competitive edge and you want to take your training to the next level, the Muscle Beach Level, there is really only one choice* - The Legendary Muscle Beach Nutrition