Quick Links to Our Prices Price History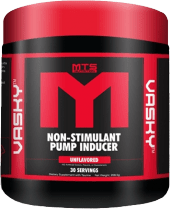 MTS Nutrition Vasky - Non-Stimulant Pump Inducer
MTS Nutrition VASKY is the SCIENTIFICALLY-DOSED leader in non-stimulant pre-workout meant to be taken as a standalone or with your favorite stimulant based pre-workout such as MTS Nutrition CLASH. VASKY contains Nitrosigine which enhances nitric oxide for an extended period of time, along with HydroMax Glycerol which promotes hyper-saturation of the muscles. With Taurine, added for its positive performance and volumizing effects, VASKY is guaranteed to help you achieve the greatest pumps and best workouts you've EVER had! ONE SCOOP IS ALL YOU NEED! Being pumped beyond your wildest dreams...That's Not A Game!*
Nitrosigine
Essentially Nitrosigine is a patented complex of bonded arginine silicate accepted by Food and Drug Administration as a New Dietary Ingredient (NDI) and Generally Recognized As Safe (GRAS). Nutrition 21 owns the trademark and produces this supplement in the USA. is one of the few supplement retailers licensed to use this ingredient in its products. Nitrosigine has been scientifically proven to increase nitric oxide (NO) and silicon blood levels in the human body. And not only does it do this, it does it for a period of time that last throughout your entire workout
HydroMax
HydroMax is a "SUPER-GLYCEROL" that helps with HyperHydration, Improved Endurance and skin-splitting muscle pumps! A uniquely optimized, highly concentrated powdered blend of glycerol and silica, and offers all the benefits of glycerol without the drawbacks. In rigorous studies glycerol has been shown to improve athletic results through hyperhydration, offer increased endurance, and promote a more pumped physique.
Taurine
This amino acid helps pull water into muscles, adding to the pump the other two ingredients promote. It can also support muscle strength and endurance.
The bottom line
Get it now, add it to your current preworkout or have it on its own. Regardless of how you take it, Vasky is the new standard in non-stimulant preworkouts. No wasted, underdosed proprietary blends. Just three superstar ingredients dosed to work! And getting the best pump of your life….THAT'S NOT A GAME!