Quick Links to Best Prices Price History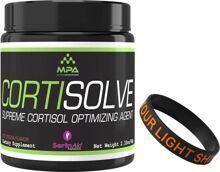 Introducing MPA CortiSolve
Attention All Serious Fitness Athletes That Have Felt Overtrained, Over­dieted, and have Exhausted Excessive Cardio Training In Your Plight to Be Stage Ready!
PLEASE TAKE THE TIME TO READ THE FOLLOWING STORY­
Before I get to the fine details of what this product is all about, I would like to share some cool empirical data I personally collected and observed using this amazing ingredient in a "mega­dosed" protocol.
If you have been around the Fitness industry for any length of time, then you are well familiar with competitors and athletes that fall into the trap of over-training and over-reaching. This phenomenon is prevalent in individuals who are on extreme calorie restricted diets compounded with excessive resistance training plus endless aerobic sessions.
When people fall into this "perpetual trap" they inevitably will have a high cortisol and ACTH (adrenocorticotropin hormone) output, thus, putting the brakes on fat­loss, muscle gain, and struggle to prevent lean body mass from being catabolized.
I am sure many of you reading this might be familiar with the term 'metabolic damage' that has been a hot topic of discussion as of late. This term is commonly used in reference towards female Bikini competitors who have endured months of fish and water and hours of cardio sessions . These ladies are surely malnourished and overtrained to max capacity, so you can only imagine how skewed their hormonal profile might be.
I used to work for an incredible supplement company called Primordial Performance years ago as the Marketing Director, and was also in charge of product testing with athletes, beta­testing new products, and keeping tabs on customer feedback. We had a product that had the same ingredient that MPA CortiSolve has in it ­­ PhosphatidylSerine (PS). I got an email one day at work from a local Figure athlete raving about the product and what it had done for her and several of her female teammates. After she and several others had plateaued in their fat­loss goals, they implemented 800 mg per day of the PS supplement. After 10­-14 days they all universally saw a reduction in waist girth , and had caliper measurements to prove it! It was clear to me that they must have all been overly trained and their adrenals were extremely exhausted. This would allow the clinical dose of PS to work its magic and rectify their elevated cortisol levels into a healthy (optimal) range. The one athlete said once she ran out of the product ­­ her waist caliper measurements crept back up until she got back on it.
I hate to say that this product could 'mask' or band­aid a less than optimal diet, but it surely could override some extremely low calorie nutrition plans and make magic happen.
I also have had my athletes incorporate PS in an aggressively dosed protocol and have seen body weight drops in 4­-7 days while tightening up. The thing is ­­ phosphatidylSerine is nothing new per se, but people have been getting short ­changed on its results due to very low dose protocols , which are namely due to low dosed products! Most PS products are dosed in 100 mg capsules, so taking 8 capsules per day to equate to MPA CortiSolve (800 mg) would be highly improbable. Another key factor to take note on is this ­
MPA CortiSolve uses the highest quality phosphatidylSerine that is registered and trademarked by ChemiNutra. I would only use the very best for what I recommend putting into my own body, and athletes alike.