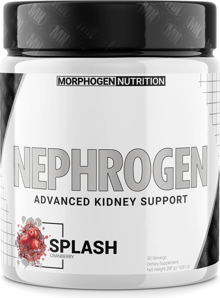 Morphogen Nutrition NephroGEN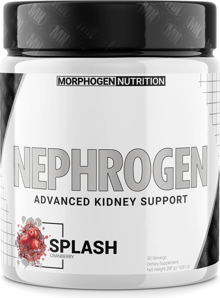 Morphogen Nutrition NephroGEN
Labels
Supplement Facts
Ingredients
Astragalus
Astragalus membranaceus (0.5% Astragaloside) is an herb used in traditional Chinese medicine that has been researched for its organ protective, anti-inflammatory, and longevity effects.

Increases Glomerular Filtration Rate (GFR); the best measure of kidney health and function, as well as decreases creatinine levels.

Supports the immune system, helps maintain healthy blood pressure, and r

educes cholesterol levels.

Heart and liver protective.

Antibacterial and antiviral.

Decreases allergy symptoms, enhances

endurance and increases wound healing.
NEPHROGEN contains 4,000mg

Astragalus membranaceus (0.5% Astragaloside)

per serving.
Moringa
Moringa oleifera extract possesses a surplus of bioactive compounds and trace elements that act as curatives for various clinical conditions.

Demonstrated to have therapeutic effectiveness against nephrotoxicity through antioxidant and anti-inflammatory effects.

Reduces urinary proteins and glucose, suggesting protective effects against kidney damage and diabetes risk.

NEPHROGEN contains 1,500mg moringa oleifera extract per serving.
Grape Seed
Grape seed extract (90% polyphenols) is rich in polyphenolic compounds and has very general protective effects against all currently tested drugs and disease states.

Enhances blood flow, increases vascular health and is anti-hypertensive.

Increases antioxidant capacity of the blood and reduces LDL (low density lipoprotein; cholesterol) oxidation.

NEPHROGEN contains 1,000mg grape seed extract per serving.
Cranberry
Cranberry extract is traditionally used to prevent or treat UTI and reduce the prevalence and severity of kidney stones.

Possesses antioxidant and anti-inflammatory effects, reducing the ability of bacteria to adhere to the lining of the bladder.

NEPHROGEN contains 1,000mg cranberry extract 50:1 (equivalent to 50g dried juice powder) per serving.
Goldenrod
Goldenrod is an herb traditionally used to reduce pain, swelling and inflammation.

Increases diuresis (urine flow) as 'irrigation therapy" to treat inflammatory conditions of the kidneys and lower urinary tract.

Possesses astringent and antiseptic qualities, reducing symptoms of UTI.

Kidney tropho-restorative (tropho is Greek for nourishing).

May also calm itchy and runny eyes, nose, and sneezing related to seasonal allergies.

NEPHROGEN contains 500mg goldenrod per serving.
Procyanidin
Procyanidin (pine bark extract; 95% proanthocyanidins) has been investigated for its general health properties and its ability to enhance Nitric Oxide (NO).

Supplementation may reduce symptoms of chronic inflammation and autoimmune disease.

Increases blood flow and blood glucose control, is cardioprotective and may help with erectile dysfunction.

Anti-diabetic, anti-hypertensive and improves kidney function.

Lowers liver enzymes and exerts mild hepatoprotective effects.

NEPHROGEN contains 200mg pine bark extract per serving.
Andrographis
Andrographis paniculata extract (10% andrographolides) is an herb frequently used to treat the common cold.

Supports immune function, reduces inflammation, and provides antioxidant protection.

Antimicrobial, immunostimulatory, anti-diabetic, and hepato-renal protective.

Reduces severity and length of sickness.

NEPHROGEN contains a research supported dose of 200mg andrographis paniculata extract per serving.
BioPerine
BioPerine is the trademarked version of piperine, a black pepper extract that increases the absorption of various nutrients such as curcumin as well as inhibits the breakdown of fat-burning compounds such as caffeine and the catecholamines, prolonging the effects of preworkout stimulants and increasing their bioavailability.

Piperine also reduces LDL cholesterol and plasma lipids while elevating HDL cholesterol and the thyroid hormones.

NEPHROGEN contains 5mg BioPerine per 1 scoop.
FAQ

This is NOT just another weak herbal "test booster" commonly sold in today's supplement industry. We only use the most potent ingredients designed to elicit the highest level of hormone modulation as permissible by drug testing governing bodies. - See more at: http://morphogennutrition.myshopify.com/products/morphotest#sthash.hNbkrnS9.dpuf