Warning: This product is not currently available at any store.
Click the button above and PricePlow will email you when the first store has it in stock!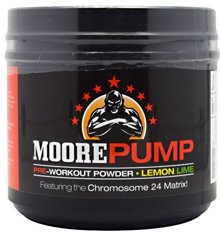 Human beings have 23 pairs of chromosomes.
Could you imagine what would happen if you had 24 pairs? Legend says the Egyptian pyramids were built by some sort of superhumans. According to expert archaeologists, even with modern technology, the pyramids could not be rebuilt today. Perhaps the Egyptians discovered the secret to adding an extra pair of chromosomes?
Adam J Moore has discovered a formula
which can bring you as close to that 24th chromosome as possible, the Chromosome 24 Matrix. A secret superhuman formula' This is quite possible.
MoorePump is a serious a supplement as you can find.
This product is so unbelievable strong that after you try it, you will never want to be without it. MoorePump provides focus, strength and determination all on its own.
Imagine a workout without borders or boundaries,
a strength without limits or fatigue. Think about cardio without slowing down or being limited.
MoorePump featuring the Chromosome 24 Matrix
...the greatest supplement of all time. Made in the USA.
Supplement Facts:
Serving Size: 1 Scoop
Servings Per Container: 25
Amount Per Serving
Vitamin C 250 mg 417%
Vitamin B6 25 mg 1250%
Folic Acid 400 mcg 100%
Chromosome 24 Body Alterating Matrix 11800 mg
Proprietary Blends
Chromosome 24 Body Alterating Matrix
Di-Arginine Malate, L-Arginine AKG, L-Arginine HCL, Creatine Monohydrate, Di-Creatine Malate, Creatine Ethyl Ester, Glucoronolactone, Caffeine Anhydrous, Tyrosine, Tyrosine AKG, Vanadyl Sulfate, Taurine, Beta-Alanine, Citrulline Malate, MSM, Alpha Lipoic Acid, Bitter Melon, Norvaline, Potassium Chloride, Chloride (as potassium chloride, sodium chloride), Magnesium Oxide, Sodium Chloride.
Directions: Mix one level scoop with 8-12oz. of water 30-45 minutes prior to training.
Warnings: Do not use if you are pregnant or nursing a baby. Consult a physician before using this product if you have any medical conditions. Do not exceed the recommended dose. Keep away from children. Do not use if you are under 18. Keep out of reach of children.
Note: Manufacturers continually change product specifications. While we try our best to keep product descriptions up to date, they do not necessarily reflect the latest information available from the manufacturer. We are not responsible for incorrect or outdated product descriptions and/or images.

These statements have not been evaluated by the Food and Drug Administration. This product is not intended to diagnose, treat, cure, or prevent any disease.