Quick Links to Our Prices
How does this work and how do stores get listed? See our disclosure below to learn more. Price History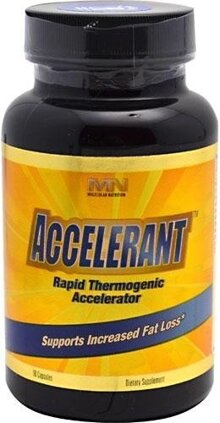 Molecular Nutrition Accelerant
Rapid Thermogenic Accelerator
Fat loss supplements tend to come in two styles: over stimulating or under performing… jittery or boring. You either hate the experience, or receiving little benefit from it. For years Molecular Nutrition stayed out of this market, working patiently in the background… waiting for an opportunity to break this relentless old pattern. That day has finally arrived.
Accelerant is comprised of four highly unique ingredient blends that work together to form an absolutely standout fat-loss formula… and this supplement is no slouch! It has a strong stimulant effect. There are strict dosage recommendations. Its formula is all about sweat, burn, cutting and training in high gear. But unlike many other products, Accelerant will not spin you out. It was designed to support a clean clear energetic effect, not jitters and discomfort. And it goes much further than that. By combining a razor sharp "feel-good" stimulant blend, an adaptogen/cortisol control matrix, key thermogenic phenols, and potent insulinogenic compounds, Accelerant should not only help increase fat burning and weight loss, but also support optimal nutrient distribution and utilization. It is the perfect addition to your next cutting routine, or when training for optimal lean mass retention and fat loss.*
Ignite a thermogenic firestorm with Accelerant from Molecular Nutrition, a company with a history of efficacy and innovation.
Accelerant Ingredient Breakdown
AccelerSTIM
The primary stimulant-based component of the Accelerant formula. The first of its three key ingredients is thiamine disulfide butyrate, or sulbutiamine. Defining the phrase "smooth and sustained energy", this analog of Vitamin B1 (thiamine) helps support razor sharp focus, jitter-free energy, and an enhanced sense of well being. Second is caffeine, the most researched and used of all central nervous system stimulants. Caffeine is widely taken to promote mental alertness, provide energy, boost metabolism, and assist physical exertion. The third ingredient, green tea extract, is a potent antioxidant that has also been associated with a reduction in total weight, waist circumference, skin fold thickness, and subcutaneous fat. Furthermore, it has been shown to significantly increase the resting metabolic rate when combined with caffeine.*
AdaptoLEAN
This component of the Accelerant formula was designed to help the body cope with the metabolic stresses of dieting and intense training. The first constituent is ashwagandha, an adaptogenic herb used for centuries throughout Asia and India to help reduce stress and tension on the nervous system. Modern studies suggest it has a potent cortisol-inhibiting effect; which is the body's primary stress hormone. This is accompanied by bacopa monnieri, another adaptogenic herbal medicine possessing a broad range of active alkaloids, saponins, and flavonoids. Bacopa monnieri works synergystically with ashwagandha to reduce metabolic stress and support balanced mental energy.*
PhenoLEAN
Perhaps the most exciting part of the Accelerant formula, PhenoLEAN contains a blend of two highly active phenolic compounds. The first of these is zingerone, a thermogenic spice derived from ginger. It typically has noticeable and almost immediate action. At rest, zingerone supports a mild smooth thermogenic effect. When the oven is hot, however, the fire is lit. Expect to sweat heavily during cardiovascular and weight training. This is accompanied by high potency raspberry ketones (4-(4-hydroxylphenyl) butan-2-one), shown in studies to increase noradrenaline-induced fat loss and the liberation of free-fatty acids from adipose cells. Phenolean perfectly compliments the AccelerSTIM blend, allowing the supplement to support a powerful thermogenic effect, but without the harsh stimulant feel and side effects.*
InsuloTHERM
The final key ingredient blend in Accelerant, designed to help partition nutrients towards the muscles and away from fat cells. Its first component is corosolic acid, often referred to as a GDA or Glucose Dispersal Agent. Studies have shown it to increase glucose utilization by enhancing activation of the cellular insulin receptor. This is combined with cinnamon extract, which has been shown in some studies to have a positive effect on insulin release and glucose transport. Whether cutting or bulking, nutrient utilization will be key to dictating your level of success. InsuloTHERM was added to help ensure those calories are used or burned instead of stored as fat, and blood sugar levels are better stabilized during high and low periods of carbohydrate consumption.*
References
Pharmacologic and therapeutic features of sulbutiamine. Van Reeth O. Drugs Today (Barc). 1999 Mar;35(3):187-92.
Caffeine ingestion, affect and perceived exertion during prolonged cycling. Backhouse SH, Biddle SJ. Appetite. 2011 Aug;57(1):247-52. Epub 2011 May 13.
Effect of endurance training supplemented with green tea extract on substrate metabolism during exercise in humans. Ichinose T, Nomura S, et al. Scand J Med Sci Sports. 2011 Aug;21(4):598-605. doi: 10.1111/j.1600-0838.2009.01077.x. Epub 2010 Mar 10.
An overview on ashwagandha: a Rasayana (rejuvenator) of Ayurveda. Singh N, Bhalla M, de Jager P, Gilca M. Afr J Tradit Complement Altern Med. 2011;8(5 Suppl):208-13. Epub 2011 Jul 3.
Exploring the role of "Brahmi" (Bocopa monnieri and Centella asiatica) in brain function and therapy. Shinomol GK, Muralidhara, Bharath MM. Recent Pat Endocr Metab Immune Drug Discov. 2011 Jan;5(1):33-49. Review.
Effects of zingerone on fat storage in ovariectomized rats. Han LK, Morimoto C, et al. Yakugaku Zasshi. 2008 Aug;128(8):1195-201.
Anti-obese action of raspberry ketone. Morimoto C, Satoh Y, et al. Life Sci. 2005 May 27;77(2):194-204. Epub 2005 Feb 25.
Corosolic acid stimulates glucose uptake via enhancing insulin receptor phosphorylation. Shi L, Zhang W, et al. Eur J Pharmacol. 2008 Apr 14;584(1):21-9. Epub 2008 Jan 31.
Isolation and characterization of polyphenol type-A polymers from cinnamon with insulin-like biological activity. Anderson RA, Broadhurst CL, et al. J Agric Food Chem. 2004 Jan 14;52(1):65-70
Cinnamon extract and polyphenols affect the expression of tristetraprolin, insulin receptor, and glucose transporter 4 in mouse 3T3-L1 adipocytes.; Cao H, Polansky MM, Anderson RA.; Arch Biochem Biophys. 2007 Mar 15;459(2):214-22. Epub 2007 Jan 25.