Warning: This product is not currently available at any store.
Click the button above and PricePlow will email you when the first store has it in stock!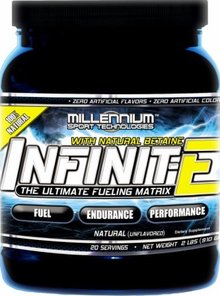 Millennium Sport INFINIT-E
INFINIT-E™ is an incredibly versatile and effective fueling product. Comprised of four ideal carbohydrate sources, natural betaine (an osmolyte) and l-taurine, INFINIT-E™ provides optimal, balanced energy and antioxidant support.* INFINIT-E™ has low osmolality aiding rapid absorption and won't cause digestive issues. INFINIT-E™ contains ZERO artificial ingredients and is banned substance free!*
GLUCIDEX is a high grade, high molecular weight, long chain glucose polymer (complex carbohydrate) derived from NON-GMO potato. Glucidex is a fast carb with high bioavailbility for rapid absorption and muscle glycogen synthesis.* It has low osmolality and provides an ideal source of calories without exceeding osmotic balance.* Glucidex potato maltodextrin has high solubility and a very clean taste with a low measure of sweetness. It is NON-GMO making it a preferred choice over typical corn based maltodextrin products. Glucidex is GRAS!
CLUSTER DEXTRIN (Highly Branched Cyclic Dextrin) is a new type of dextrin that is produced from amylopectin via a cyclization process. Cluster Dextrin is a high molecular weight carbohydrate with almost no affect on osmotic pressure. This means it speeds gastric emptying leading to faster absorption and driving nutrient and energy replenishment.* Cluster Dextrin is NON-GMO and is GRAS.
PALATINOSE™ (isomaltulose) is a low-glycemic (32) and low-insulinemic disaccharide (glucose & fructose) with enzymatically rearranged molecular bonds. We've added Palatinose™ to INFINIT-E™ because it is the only functional carbohydrate which is fully digestible yet slowly released. It provides a sustained energy release because is hydrolyzed and absorbed four to five times more slowly than sucrose due to the stronger binding of its glucose and fructose components. In this way it supplies glucose as fuel for body and brain at a time when the digestion and absorption of pure glucose has long been finished. For muscles and brain this means a constant stream of energy over a longer period of time compared to quickly absorbed carbohydrates. Furthermore, the addition of Palatinose™ allowed us to create a specific carbohydrate release profile by combining Palatinose™ with Glucidex, Cluster Dextrin and Trehalose. Palatinose™ is GRAS!
TREHA TREHALOSE is sometimes referred to as "mushroom sugar" because it is found in significant amounts in certain mushrooms and fungi, but the compound also appears in yeast, seeds, algae and in succulents ("resurrection plants" - desert plants that survive long periods of drought yet spring to life when provided moisture). Trehalose is a multi-functional disaccharide (consisting of two glucose molecules) that when metabolized releases both molecules translating into quick energy. Trehalose does not produce the rapid spike in blood glucose seen with sucrose and other sugars because enzyme that digests Trehalose is found primarily in the small intestine, which means it is not fully metabolized until 2 or 3 hours after digestion.* This slow release process further bolsters INFINIT-E™'s sustained energy profile allowing clean, balanced glycogen replenishment.*
INFINIT-E™ incorporates Natural Betaine Anhydrous. Derived from sugar beets natural betaine is an osmolyte which has been suggested to provide cellular support against dehydration.* Betaine is suggested to promote strength, power and endurance and is a methyl donor helping supporting the liver and cardiovascular system.*
While L-TAURINE is often referred to as the second most abundant amino acid in muscle, some muscle biologists have determined that L-Taurine, (not glutamine), is the most voluminous amino acid contained in striated type 2 muscle fiber. L-Taurine is essential to cardiac function and increases muscle cell volume. For an athlete this seems important because expanded muscle cells boost hydration resulting in accelerated rates of protein synthesis. Additionally, supplementation with l-taurine has been suggested to reduce oxidative stress induced by exercise.* L-Taurine was included in INFINIT-E™ for its effect on cardiovascular support and cell hydration.*