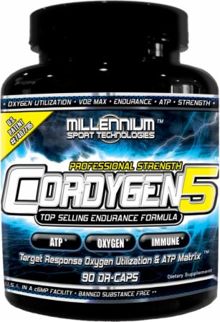 Millennium Sport Cordygen5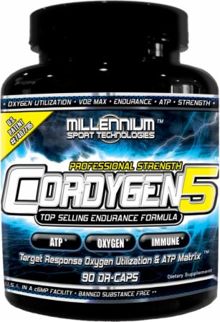 Millennium Sport Cordygen5
Cordygen5 incorporates 100% organic, highly concentrated extracts of five strains & four species of cordyceps for maximum oxygen utilization, cellular energy, stamina and ATP production.* Cordygen5 is an effective performance enhancing cordyceps product and may provide for supports in ATP and in oxygen utilization.* Cordygen5 is perfect for anyone who wants to support their ATP levels but doesn't want to consume creatine due to its common side effects.*
Benefits of Cordygen5 Supplementation:
Support Cellular Energy*
Promote Oxygen Utilization*
Boost ATP*
Support Endurance*
Promote VO2 Max*
Support Strength*
Boost Testosterone*
Enhance Aerobic Recovery*
Supports a Healthy Immune Function*
A Must For All Athletes
Cordygen5 is also ideal for anyone who is a non responder to creatine products but still wants reap its benefits. The added bonus is the support for oxygen utilization that Cordygen5 provides.* Cordygen5 allows athletes, amateur or professional to break through their aerobic and anaerobic plateaus, maximizing strength and endurance.* Whether you are a bodybuilder, powerlifter, martial artist, triathlete, cyclist, runner, swimmer, skier, snowboarder, hunter, climber, wrestler, golfer, tennis, football, basketball, hockey or baseball player, you'll maximize your performance with Cordygen5.
Cordygen5 is a pure, solid state fermented, super potent blend of extracts from four strains and five species of cordyceps including Cordyceps Sinensis Alohaensis Hybrid, CS4 strain Cordyceps Sinensis, Cordyceps Militaris, Cordyceps Sobolifera and Cordyceps Ophioglossoides. The Cordyceps Sinensis Alohaensis Hybrid strain contains high levels of HEAA (Hydroxy Ethyl Adenosine Analogs) and biological active ingredient levels higher than certain wild collected samples. The potency of the Cordygen5 cordyceps blend comes from the proprietary combination of cordyceps strains and the way these strains are cultured and extracted.
Almost all cordyceps strains are cultured in a process called liquid cultivation or fermentation. This process uses a liquid substrate to grow the cordyceps mycelium in a very speedy 5-18 days, yielding low levels of active constituents. The cordyceps mycelium is then harvested by filtering out the liquid medium, drying it and grinding it into a powder. By filtering out the liquid medium many of the quality compounds secreted by the cordyceps are lost. It is usually further processed using hot water or solvents resulting in the loss of nearly 90% of the active constituents of which it had few of to begin with due to the fast liquid culturing process.
Cordygen5 is grown using a solid state (solid substrate) or biomass method. This is a much slower culturing method where the cordyceps is grown on a sterilized solid medium such as organic grain. The cordyceps is allowed to consume the solid substrate while being subjected to temperature and gas changes (O2 and CO2) to simulate its native high altitude conditions. This process typically takes between 22 and 24 weeks (nearly 6 months) before the cordyceps is ready for harvest. When the cordyceps mycelium is ready to harvest it has consumed more than 98% of the solid medium in which it was cultured on.
The residual substrate is then removed yielding 100% pure, super potent cordyceps material with extremely high concentrations of active constituents from every facet of its life cycle. The cordyceps is then extracted & concentrated to increase its potency.
In this country its use has been researched for it's enhancement of energy production with applications in athletic performance and fatigue. Studies suggest that cordyceps enhances ATP production, supports oxygen utilization, supports VO2 Max, supports SOD (Super Oxide Dismutase) activity, supports immune function, supports healthy kidney function, supports healthy cholesterol levels already in the normal range, and support glucose metabolism.* One study even suggests that cordyceps may support testosterone production.*
Selected References:
Zhu, Jia-Shi, Halpern, G., Jones ,K (1998) The Scientific Rediscovery of an Ancient Chinese Herbal Medicine: Cordyceps sinensis The Journal Of Alternative And Complementary Medicine [part 1]Volume 4, Number 3, 1998, pp. 289-303 [part 2] Volume 4, Number 4, 1998, pp. 429 - 457
Guowei Dai, Tiantong Bao, Changfu Xu, Raymond Cooper, and Jia Xi Zhu, Cs-4 Steady-State Bioenergy Status in Mouse Liver. The Journal Of Alternative And Complementary Medicine Volume 7, Number 3, 2001, pp. 231…amp;quot;240
Guo QC, Zhang C. (1995) Clinical Observations of Adjunctive Treatment of... with JinSHuiBao Capsule. J Administration Traditional Chinese Medicine 1995:5(suppl):22
Wang, R., Xu, Y., Ji, P., Wang, X., Holliday, J (2001) Clinical Trial Of A Mixture of Six Medicinal Mushroom Extracts.
Holliday, J., Cleaver, P., Loomis-Powers, M., and Patel, D., Analysis of Quality and Techniques for Hybridization of Medicinal Fungus Cordyceps sinensis, International Journal of Medicinal Mushrooms, Vol. 6, pp. 147-160 (2004)
Gordon, D. (1993). : The rumored dope on Beijing's Women. Newsweek September 27): 63.
Chen, S.Z. and Chu, J.Z. (1996). [NMR an IR studies on the characterization of cordycepin and 2-deoxyadenosine]. Zhongguo Kangshengsu Zaxhi 21: 9-12.
Blumenthal M. (2003) Herbal Gram Abc clinical guide to herbs
XU C.F et al in ZHU J-S, Halpern GM, Jones K. The Scientific rediscovery of a precious ancient Chinese herbal regimen: Cordyceps sinensis: Part I. J Alt Comp Med 1998;4(3):289-303.)
( Reference 1, Chapter physical performance and quality of life, pages 293 - 295)
(Wan F, Guo Y, Deng X. Chinese Traditional Patented Med 1988;9:29- 31) Research on animal studies shows cordyceps supports natural sex hormones
Huang Y, LuJ, Zhu B, Wen Q, Jia F, Zeng S, Chen T, Li Y, Xheng G, YiZ..Zhongchengyao Yanjiu 1987;(10):24-25 Adrenal glands and thymus hormones
(Zhou LT, Yang YZ, Xu YM, Zhu QY, Zhu YR, Ge XY, Gao JD. Short term curative effect of cultured Cordyceps sinensis (Berk.) Sacc. Mycelia in chronic... B. China J Chinese Materia Medica 1990;15(1):53-55)
(Jiang JC, Gao YF. ... one month with Cordyceps supplement J Administration Traditional Chinese Med 1995;5(suppl):23-24)