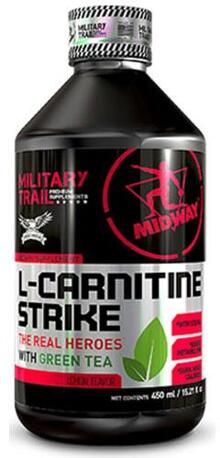 Military Trail L-Carnitine Strike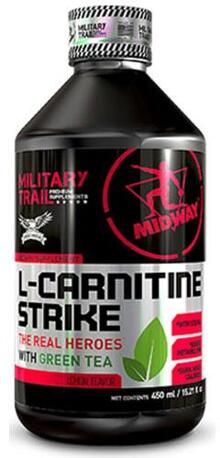 Military Trail L-Carnitine Strike
What is Military Trail's L-Carnitine Strike?
Military Trail's L-Carnitine Strike offers an extreme amount of free form L-Carnitine along with Green Tea Extract. L-Carnitine is a naturally occurring amino acid that has an imperative role when it comes to creating energy by the burning of fatty acids. With L-Carnitine, your body will have a more direct access to your fat storage encouraging your body to derive its energy from its stored fat. In addition, a dosage of Green Tea Extract will further its support of fat oxidation thus increasing the amount of fats cells being burned. Military Trail's L-Carnitine Strike is a stimulate free product that allows fatty acids to be more accessible throughout the body therefore optimizing fat oxidation and will boost the metabolic rate of fat burning.
Benefits:
Promotes Metabolism & Fat Burning

When the body has a low insulin level whether its from fasting, intense training, or a low-calorie diet your body's mitochondrion will begin to create energy from stored fatty acids. However, the fatty acids cannot get to the mitochondria without assistance from carnitine. The carnitine will transport the fatty acids to the mitochondria allowing fat to be metabolize. If the body is low on carnitine, the fatty acids will not be able to get to the mitochondria thus struggling to use fat cells as a source of energy. Simply put, in order to metabolize fat, it is paramount to have carnitine.
Increase Performance, Endurance, Recovery

Taking L-Carnitine Strike will allow your body to minimize lactic acid build up in the blood which will lower fatigue. Having less fatigue will help one increase both performance and endurance. Also, this will reduce the amount inflammation one will obtain, which will allow for a faster recovery and less soreness.
Boost Brain Power, Mood, Memory, & Cognitive Decline

Military Trail's L-Carnitine Strike is also an anti-aging nootropic which will allow your brain to preform more effectively. This will help boost circulation and promote nutrient rich blood to the brain where one's mood, learning, and memory can be improved.
Supplement Facts (Ingredients)
Military Trail's L-Carnitine Strike offers an astonishing 3800mg of L-Carnitine per serving, along with 380mg of Green Tea Extract. Other Ingredients are: Purified Water, Natural Flavors, Citric Acid, Malic Acid, Vegetable Glycerin, Sucralose, Potassium Sorbate, Sodium Benzoate and Rebaudioside A (as Stevia rebaudiana Leaf Extract).
Directions
Shake well before use. As a Dietary supplement, take two full tablespoons daily, preferably on a empty stomach. Produces results best when taken before workout or activity.
Information (Warnings)
Safety Warning: KEEP OUT OF THE REACH OF CHILDREN. Do not use if safety seal under cap is broken or missing. Store in a cool, dry place. Do not refrigerate.
Legal Disclaimer: These statements have not been evaluated by the Food and Drug Administration. This product is not intended to diagnose, treat, cure, or prevent any disease.
Statements regarding dietary supplements have not been evaluated by the FDA and are not intended to diagnose, treat, cure, or prevent any disease or health condition.