Quick Links to Best Prices Price History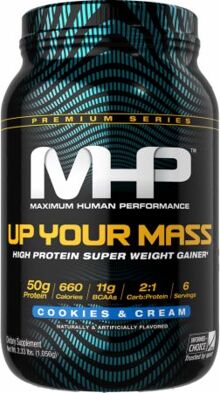 Up Your Mass Product Highlights:
62g High Quality Sustained Release Protein*
Triggers Gains in Hard, Dense Muscle Mass*
Sustained Release Protein Keeps You Anabolic*
Optimizes Insulin Response for Max Growth*
124,000mg/Day of 18 Highly Anabolic Aminos*
26g Glutamine, 9g Leucine, 7g Arginine
23g of Branch Chain Amino Acids
Low Glycemic Carbs
Fantastic Taste
Our Most Powerful Weight Gainer Ever!
Up Your MASS is formulated with a proven 45/35/20 Macrobolic Nutrition ratio to create the perfect metabolic and hormonal environment for maximum mass, strength, endurance and recovery.*
Muscle Building Macrobolic Nutrition Formula
Probolic Protein
The most advanced protein matrix ever developed, PROBOLIC protein (Supro soy protein isolate, whey concentrate, casein) continually feeds your muscles for up to 8 hours. This sustained release profile provides quick, medium and slow releases of muscle building amino acids for both fast and long-term nitrogen retention. Probolic is loaded with mega amounts of Glutamine, Leucine, Branched Chain Amino Acids (BCAAs) and Nitric Oxide boosting Arginine in every serving, all of which are critical for muscle building, strength and recovery from workouts.*
MASS Load Carbs
The type and quality of carbohydrates used in any weight gainer will determine the type and quality of mass you pack on. Only Up Your MASS contains MASS Load, a unique agglomerate of carbohydrates including barley, oats and oat fiber that optimizes the anabolic effect of insulin, allowing your body to build dense, high quality muscle mass. The advanced MASS Load carb blend also gives you sustained energy, fast glycogen replenishment and stabilized blood sugar levels. Unlike the competition, Up Your MASS is NOT loaded with sugars (dextrose, sucrose) that can increase fat stores.*
Lipid Complex
Essential Fatty Acids are extremely important nutrients for health and performance. In fact, the right sources of fats may help reduce exercise induced soreness and major inflammation, improve hormone functions and provide energy. EFAs slow down the digestion of carbohydrates and proteins, helping to stabilize insulin release and improve nitrogen retention. Medium Chain Triglycerides (MCTs) provide a good source of energy and help preserve muscle glycogen. The Up Your MASS multi-functional Lipid Complex also contains CLA, which has been shown to increase muscle mass and decrease body fat.*
Tastes Great, Mixes Instantly!
Up Your MASS is the highest quality, best tasting weight gainer on the market today. It mixes instantly in a shaker (no blender required) with water or milk so you can feed your muscles high quality calories immediately after training and throughout the day! Get on the road to maximum MASS with Up Your MASS!*