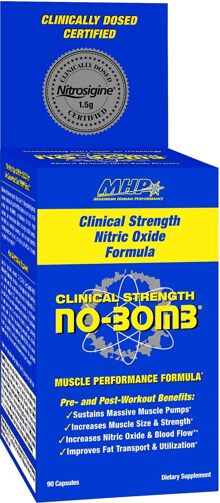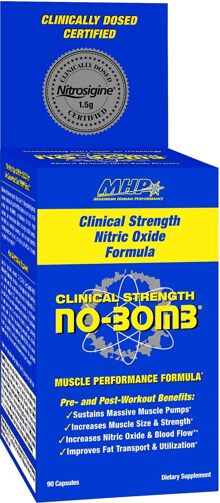 Pre and Post Workout Benefits:
Sustain Massive Muscle Pumps*
Promote Muscle Size and Strength*
Support Energy and Endurance*
Reduce Lactic Acid*
Optimize Recovery*
Promote Fat Burning*
NO-BOMB's revolutionary dual action GlycoCarn/KNO3 Nitrite-NO Technology combo promotes synergistic nitric oxide effects.*
PERFORMANCE-ENHANCING PROPERTIES OF GLYCOCARN
GlycoCarn (glycine propionyl-L-carnitine, or GPLC) is a patented biochemically modified compound created by Sigma-tau Health Sciences. GlycoCarn promotes increased vasodilation, supports muscle pumps and performance, optimized recovery, lactic acid removal, supports fat burning and added energy for workouts. It also has antioxidant benefits and is active in the body for extended periods to promote athletic performance.*
CANADA CUSTOMER NOTICE: Supplements containing L-carnitine can NOT be shipped to Canada due to Canadian laws. Customers in other countries need to check with their local laws.