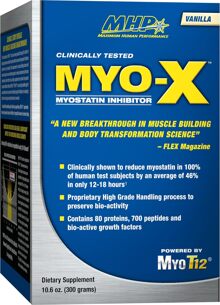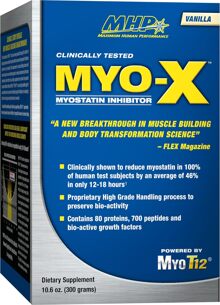 The Most Exciting Muscle Building Breakthrough the World Has Ever Seen!
Clinically Tested Myostatin Inhibitor*
Reduces Myostatin to Increase Muscle Growth*
Biologically Active Growth Factors*
The Introduction of MYO-X has been made possible through the efforts of the leading researchers and their intensive efforts to overcome the genetic limitations ingrained in us by myostatin. This advancement in muscle building science will pave the way for a new and better approach to muscle enhancement and human performance. Never before has a dietary supplement shown the powerful myostatin inhibition effects of MYO-X. MYO-X is an exciting breakthrough for every athlete who has ever been frustrated by genetic limitations or is seeking to take their muscle gains and performance to a new level.*
The World's Only Clinically Tested Natural Myostatin Inhibitor
"Double Muscling" is a real scientific term used to describe the extreme muscle hypertrophy found in mammals, including humans, lacking myostatin (a member of the Transforming Growth Factor ß superfamily of secreted growth factor proteins). Myostatin is a powerful negative regulator of skeletal muscle mass that restricts muscle growth. While scientists are not attempting to duplicate muscle doubling, they have been eagerly searching for a way to reduce myostatin and increase muscle building for the treatment of muscle loss. Every bodybuilder on the planet would also want to have lower levels of myostatin to enhance their muscle building potential. And now they can with the world's first natural myostatin inhibitor, clinically tested MYO-X. While MYO-X will certainly not eliminate myostatin or duplicate "Double Muscling," it is clinically proven to significantly reduce myostatin to decrease muscle loss and increase muscle building capacity.*
Since the discovery of myostatin in 1997, scientists have been intrigued by its actions and have sought methods of intervention to reduce myostatin levels and induce muscular growth. As a result, sports physicians began studying this compound in hopes of introducing some type of viable myostatin inhibitor to athletes. At the forefront of this research was Carlon Colker, M.D., a dedicated medical doctor with a vision of building bigger, stronger athletes.
Documented cases of myostatin deficiency in mammals, including humans, display astonishing muscular growth and reduced body fat levels. Researchers have been studying the rare accelerated growth of a German child deficient in myostatin since he was first referenced in the New England Journal of Medicine in 2004, while the tremendous muscularity of the Belgian Blue bull and "Bully" Whippet dog breed are other prime examples of "double muscling" due to the absence of myostatin in animals. While you will not experience the full double muscling phenomenon, reducing myostatin will prime your body for maximum muscle gains.*
Revolutionary Breakthrough in Myostatin Inhibitor Technology Shows Huge Muscle Building Potential for Bodybuilders
For decades, the medical community (and bodybuilders) have been urgently searching for a mechanism that would inhibit the production of myostatin, a genetic protein responsible for limiting muscle growth in humans. Spurred by scientists' widely held belief that myostatin inhibition represents a powerful strategy for promoting significant muscular gains, the principle researchers involved in this area of inquiry have been relentless in their efforts to isolate a viable myostatin inhibitor and make it available to athletes. Now it appears that their efforts have been rewarded with the development of a highly bio-active compound.*
Carlon Colker, M.D., along with other doctors and scientists from around the world, identified and isolated a natural bio-active compound that goes through a proprietary High Grade Handling process and carefully preserves and magnifies the concentration of 80 proteins, 700 peptides and numerous biologically active growth factors absolutely unique to this product. This patent pending compound, MyoT12, functions as a modulator and antagonist to myostatin production and is validated and backed by extensive laboratory testing, human clinical studies, and peer reviewed and published results. This is a very significant breakthrough for bodybuilders, athletes and even aging adults looking to increase muscle mass and strength. Myostatin is present in all of us and regardless of how hard you train, myostatin will limit your muscle building potential. Myostatin reductions such as these are designed to help counter the forces that have restricted your ability to build more muscle and open the door to new muscle building potential. Under exclusive license, MHP's MYO-X has emerged as a powerful approach to extreme muscle enhancement for all athletes!*
What People are Saying About MYO-X
"Research has shown that a reduction in serum myostatin levels is likely to result in clinically significant muscle gains. In my work with elite athletes I have seen firsthand the muscle enhancement impact of MYO-X when used in conjunction with intense weight training. These athletes have made vast improvements in muscle size, strength, performance and improved recovery.*" – Carlon M. Colker, M.D., FACN, Sports Performance Physician, Inventor of MyoT12
"Myostatin inhibition may represent the safest & most powerful way to build lean muscle mass.*" – Robert Hariri, M.D., Ph.D.
"I've never experienced anything like MYO-X. This stuff has extremely powerful muscle building and recovery effects.*" – Victor Martinez, IFBB Pro Bodybuilder
"If you're looking to get bigger and stronger, you need MYO-X. It truly activates muscle growth and speeds recovery faster than anything I've ever taken.*" – Brian Shaw, World's Strongest Man