Warning: This product is not currently available at any store.
Click the button above and PricePlow will email you when the first store has it in stock!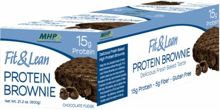 MHP Fit & Lean Protein Brownie
PERFORMANCE NUTRITION INNOVATORS
PROTEIN BROWNIE
CHOCOLATE FUDGE
CHOCOLATE CHIP
FIT & LEAN BROWNIE
GENERAL INFO
PROTEIN NEVER TASTED SO GOOD!
15G PROTEIN
190 CALORIES
5G FIBER
GLUTEN FREE
0 Artificial Sweeteners
One of the most difficult challenges of staying fit is finding quality protein sources that you can enjoy. Now you can indulge yourself with a scrumptious soft baked brownie and feel good about it! Fit & Lean Protein Brownies taste so good you won't believe they're packed with the protein and fiber you need to look your best.
Fit & Lean Protein Brownies are a healthy dieter's delight with 15 grams of quality protein, 5 grams of fiber and just 190 calories, plus they're gluten free. Protein never tasted so good! Fit & Lean Protein Brownies are available in delicious Chocolate Fudge and Blondie Chocolate Chip flavors.
FIT & LEAN BROWNIE
TESTIMONIAL
"When I need protein on the go, I reach for a Fit & Lean Protein Brownie. They are delicious and contain 15 grams of the protein I need!"
CRYSTAL MARIE
FITNESS MODEL
FIT & LEAN BROWNIE
SCIENCE
Fit & Lean Protein Brownies provide a great way for men and women to harness the power of protein for leaner, firmer and stronger muscles, as well as help maintain a healthy, fit body and also manage their weight. Protein provides the amino acids that serve as building blocks for healthy, functional muscles. As a result, ingestion of proper amounts of protein – from a variety of sources – is required to get the most out of your exercise program. This is where Fit Lean Protein Brownies can help. As a portable protein source, they allow you to intake the protein you need whenever it's necessary, to keep your fitness program on track.
For those looking to manage or even lose some weight, Fit & Lean Protein Brownies can be an excellent snack to keep you feeling satisfied and to help prevent overeating. It has long been known that protein ingestion generally increases satiety (fullness) to a greater extent than carbohydrate or fat. As such, it may facilitate a reduction in overall food (energy) consumption. This is especially important under snacking situations. Fit & Lean Protein Brownies allow you to snack in a healthy manner that better suits your fitness goals. But don't use Fit & Lean Protein Brownies as a sole source of your calories; very low calorie diets can be detrimental to your health – and weight loss goals.
Fit & Lean Protein Brownies use a combination of whey protein concentrate, soy protein isolate and whey protein isolate to provide both fast and medium release proteins for muscle building and satiety benefits. Research suggests that milk proteins work best when combined with other proteins. The protein blend in Fit & Lean Protein Brownies provides 15 grams of protein per serving, yielding a protein-per-calorie level higher than many comparative food sources. And by including soy protein isolate, Fit & Lean Protein Brownies provide high levels of key amino acids such as glutamine, arginine and BCAAs, plus key isoflavones that provide numerous health benefits.
Because of the processing of the precise protein blend, Fit & Lean Protein Brownies are gluten free. In addition, they provide 5 grams of fiber per delicious brownie to help ensure health and vitality.
High Protein Snacking For Fitness & Weight Control
Many fitness experts agree that the average person who resistance trains or performs other exercise requires about 0.7-0.8 grams of protein per pound of bodyweight per day for optimal performance and health. So for the average 110 lb. woman, that would equate to about 82 grams of protein daily, while the average 180 lb. man would need about 135 grams. Of course, this protein should be consumed over the course of the day in smaller quantities for best digestion and absorption. As a result, this makes Fit & Lean Protein Brownies a perfect between-meal protein snack or post-workout treat, providing 15 grams of quality protein per delicious Brownie.
Another key benefit of protein consumption is its effect on weight management. This is due in part to its ability to promote satiety (fullness), which can help cut down on overall food consumption. Research indicates that high protein content likely plays a role in inducing healthy weight loss. In a study in the American Society of Clinical Nutrition, Weigle, et al. showed that an increase in dietary protein from 15% to 30% of total caloric intake and a reduction in fat from 35% to 20% (at a constant carbohydrate intake) helps produce a sustained decrease in calorie intake and results in significant weight loss. This is where Fit & Lean Protein Brownies can help you increase protein intake while avoiding excessive calories – allowing you to trim body fat and meet your weight loss goals.
Finally, because Fit & Lean Protein Brownies are portable and convenient to carry in your gym bag or purse, you can enjoy the taste of a real soft baked brownie when you're on the go. They can help you feed your body the protein it needs in a great tasting snack!