Quick Links to Best Prices Price History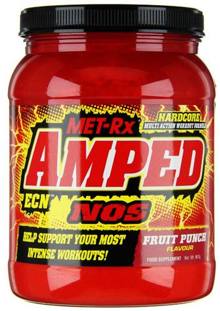 Multi-Action Preworkout Formula
Intensifies Strength, Power, and Recovery*
Energizes the Mind and Body*
Over 2g of Beta-Alanine per 2 Scoop Serving
Amped ECN NOS gives you more energy, more focus and more high-intensity endurance for your most intense workouts. With a combination of proprietary formulations that support extreme energy and nutrient circulation to the cell, this hardcore, multi-action pre-workout drink mix delivers taste and satisfaction.*
Met-Rx Amped ECN takes sports nutrition supplementation to a new dimension by combining proprietary formulations to support extreme energy and nutrient circulation to the cell. The Amped ECN Pumped Blend supports strength, power and recovery from high-intensity exercise. The Amped ECN Nitro Blend contains important Amino Acids, including all of the Branched Chain Amino Acids, to support Nitrogen levels. The Amped ECN Neuro-Energy Blend is designed to rev up your mind and body and magnify energy levels throughout the system so you can hit the gym and take care of business! As if all that hard hitting action wasn't enough, we added the Amped ECN NOS Blend to support nitric oxide synthesis, one of the keys to unlocking oxygen and nutrient flow to the cell.*
About The Ingredients In Amped ECN:
Amped ECN NOS Frequently Asked Questions
What is Amped ECN NOS?
MET-Rx researchers developed Amped ECN NOS to cover the most important pre and post-workout concerns of serious athletes. Unlike conventional sports supplements that focus on only one area such as strength, energy or circulation Amped ECN NOS harnesses the power of several bioactive factors to provide multi-level support by combining ingredients that have both short and long-term effects.*
How do you take Amped?
For adults, 2-3 scoops of Amped ECN NOS should be mixed approximately 30-60 minutes before an intensive workout. Half of the Amped ECN NOS should be consumed shortly after mixing and consume the balance throughout the course of your high-intensity training session. Read all label directions carefully prior to use.
What's in Amped?
Amped ECN NOS contains the latest and greatest ingredients to hit the exercise community in years, divided into 4 proprietary blends:
Pumped Blend: Combines the well researched Creatine Monohydrate with the hot new ingredient, Creatine Ester Phosphate Sodium, into one powerful blend along with N-Acetyl Cysteine.
Nitro Blend: Combines the only three known Branched-Chain Amino Acids (Leucine, Isoleucine, Valine). These amino's support nitrogen levels.
Neuro-Energy Blend: Features over 1600mg per scoop of cutting edge ingredients such as Taurine, L-Tyrosine, Caffeine Anhydrous, White Willow and Vinpocetine.
NOS Blend: Packed with both free form L-Arginine and L-Glutamine in combination with Alpha Ketoglutaric Acid.
What's going to happen when I take Amped ECN NOS?
Forget those other sports supplements! With Amped ECN NOS you'll get the benefits of energy support. With continued use along with careful attention to your exercise program, you'll notice the results. Here's how the proprietary blends work to help make things happen:*
Pumped Blend: This blend is mainly focused to assist you in achieving your long term effects. Creatine has been shown to help you crank out reps during high-intensity exercise. With continued use, this unique blend can support strength, power and recovery.*
Nitro Blend: There are only three Branched-Chain Amino Acids, and they are the only essential amino acids that are not directly metabolized in the liver. By supplementing with these important aminos, you help to support nitrogen levels for several physiological functions.*
Neuro-Energy Blend: This blend combines dual effects by providing energy magnification for both the mind and the body. The link between the mind/body and exercise performance can't be separated, which is why Amped is designed to support this critical issue.*
NOS Blend: NOS Blend supports Nitric Oxide Synthase, which is responsible for supporting circulation of oxygen and other nutrients throughout the body. This specially-formulated blend may work synergistically with the other proprietary formulations through its effects on nutrient delivery. The NOS Blend also contains Glutamine, which is the most abundant amino acid in both the blood and muscle.*
What is the difference between creatine and Amped?
There actually is no comparison between Creatine and Amped ECN NOS. Not only does Amped include Creatine Monohydrate, which is traditionally used in most creatine products, it also contains Creatine Phosphate Ester Sodium (CPES). CPES is rapidly becoming one of the hottest creatine products to hit the market in several years. Creatine, as creatine monohydrate, is simply attached to water. On the other hand, creatine as CPES is bonded at the molecular level to both phosphate and sodium ions. In the muscle, creatine is stored as creatine phosphate. Amped ECN is also much more then just a creatine supplement. By combining 4 proprietary blends into one explosive product, Amped supports Nitric Oxide Synthase, nitrogen levels, extreme energy and more! No traditional creatine product can even compare.*