Quick Links to Our Prices Price History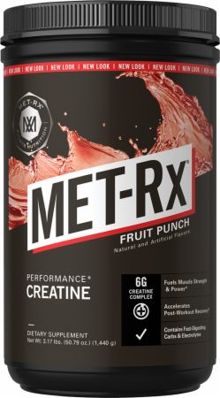 Met-Rx Advanced Creatine Blast
Product Highlights
Speeds Recovery from Training*
Muscle Size and Strength Support*
Accelerated Creatine Delivery*
Spikes Insulin to Boost Creatine Uptake*
MET-Rx has taken our original Creatine Blast Formula to a whole new level with our most advanced Creatine formula to date! With a combination of proprietary formulations that support accelerated Creatine delivery and improved cell volumization, MET-Rx Advanced Creatine Blast delivers insane taste and results.*
MET-Rx Advanced Creatine Blast RTC works for strength sport athletes and anyone resistance training for muscle mass and strength. Each scientifically-formulated serving of MET-Rx Advanced Creatine Blast is loaded with fast digesting carbohydrates, electrolytes and has added Branch Chain Amino Acids, Arginine, and Chromium.*
With Three Advanced Blends!
Advanced Creatine Blast is now packed with three hardcore blends: Tri-Phase Pump Complex, Xtreme NOS Blend and BCAA Nitro Blend, in addition to all of the hard-hitting features of the original.*
Tri-Phase Pump Complex for increased muscle size and strength support.*
BCAA Nitro Blend contains all three essential Branched Chain Amino Acids plus Taurine to support nitrogen levels.*
Xtreme NOS Blend featuring L Arginine and L-Arginine Alpha Keto Glutarate.
Each scientifically formulated serving of MET-Rx Advanced Creatine Blend is also loaded with fast digesting carbohydrates and electrolytes. Carbohydrates help induce an insulin response that improves Creatine transport into the muscle - so you can maximize Creatine stores for improved strength and recovery. Sodium, an electrolyte, may also improve Creatine uptake through its interaction with Creatine transporters - opening the "floodgates" for Creatine movement into muscle.*