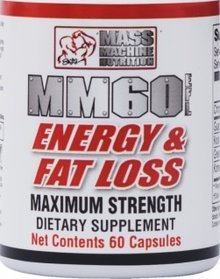 Mass Machine Nutrition MM60EFL Energy & Fat Loss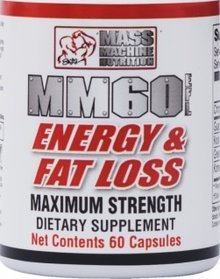 Mass Machine Nutrition MM60EFL Energy & Fat Loss
OPTIMIZE HUMAN THERMOGENESIS
BURN FAT*
BOOST METABOLISM*
ENHANCE THYROID PRODUCTION*
MM60EFL ENERGY & FAT LOSS CAPSULES
MM60EFL ENERGY & FAT LOSS CAPSULES WILL INTENSIFY YOUR FOCUS ON FAT BURNING WITOUT HAVING TO SACRIFICE WORKOUT PERFORMANCE OR EXPERIENCING HEAVY STIMULANT CRASHES.*
MM60EFL Energy & Fat Loss Capsules are taking the fat loss category in a whole new direction. Instead of overloading you with stimulants and praying it does something, we broke it down to its simplest base components that actually boost your metabolism and safely increase your heart rate. You'll support energy, fat loss, and an overall good feeling.*
GET LEAN AND CUT*
MM60EFL Energy & Fat Loss Capsules were designed in a way to optimize the body's natural metabolic mechanisms and burn the most amount of calories.*
FEEL ENERGIZED*
MM60EFL Energy & Fat Loss Capsules allow for intensified fat burning without sacrificing performance and suffering from massive stimulant crashes.*
WANT TO KNOW MORE?
...Check out
The Video
MM60
ENERGY & FATLOSS CAPSULES

DESIGN

Fat burners have completely saturated the market. All you need to do is look around. The problem is that many of these so-called "fat burners" are loaded with nothing more than stimulant after stimulant in hopes that it has a slight change on your metabolism. In effect, all they do is increase your heart rate.

MM60EFL Energy & Fat Loss Capsules is taking the fat loss category in a whole new direction. Instead of overloading you with stimulants and praying in does something, we broke it down to its simplest base components of products that actually boost your metabolism and safely increase your heart rate in a healthy manner.* MM60EFL Energy & Fat Loss Capsules were designed in a way to optimize the body's natural metabolic mechanisms and burn the most calories without going overboard on stimulants.* Comprised of all natural ingredients, MM60EFL Energy & Fat Loss Capsules focus on raising your natural metabolic rate and enhancing thyroid functioning.*

MM60EFL Energy & Fat Loss Capsules will allow you to have more intensified focus on fat burning without having to sacrifice your workout performance or experience massive stimulant crashes. MM60EFL, you will have more energy, lose more body fat, and have an overall better feeling!*
STAY UP-TO-DATE!
TRAINING
|
NUTRITION
|
MOTIVATION
|
SUPPLEMENTS
Do you have a question about training, nutrition, motivation, or supplements? Get them answered by Skip La Cour himself in his Skip La Cour Mass Machine Training" thread in the Forum section. CLICK HERE! You can also learn from the questions asked by others and from the articles, videos, podcasts, training routines, diets, and more posted on a continual basis.
You want to know more about Skip La Cour, Mass Machine Nutrition, what you need to know about proprietary blends, and how to make the most out of your supplement investment?
...Check out
The Video