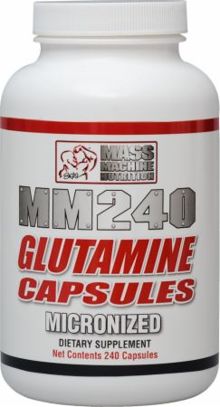 Mass Machine Nutrition MM240 Micronized Glutamine Capsules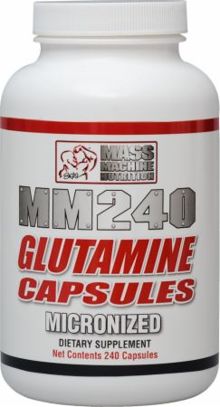 Mass Machine Nutrition MM240 Micronized Glutamine Capsules
THE GREAT CREATOR
REDUCE RECOVERY TIME*
REPAIR MUSCLE FIBERS*
REDUCE LACTIC BUILD-UP*
MM240 MICRONIZED GLUTAMINE CAPSULES
MM240 MICRONIZED GLUTAMINE CAPSULES REDUCE RECOVERY TIMES, STIMULATE MYOFIBRIL RECRUITMENT AND GIVE YOUR BODY WHAT IT NEEDS TO REBUILD* STRONGER, DENSER, MORE COMPLETE MUSCLE FIBERS.*
The recovery process of the body is an ongoing cycle. Make the most of your time, energy and efforts spent in the gym training and preserve the most amount of muscle tissue by supplementing with MM240 Micronized Glutamine capsules. Also, Using MM240 Micronized Glutamine capsules will ramp up your body's anabolic state and cause it to turn to fat storages as a source of energy--rather than breaking down your hard earned muscle tissue for energy.*
REBUILD MUSCLE*
Clinically suggested to reduce your recovery time by repairing the muscle fibers and removing lactic acid helping reduce lactic build up which means your muscles can work longer and harder.*
PROMOTE RECOVERY*
Take MM240 Micronized Glutamine capsules with Mass Machine Nutrition MM300 BCAA SUPREME amino-acid drink to beef up the recovery process!*
CONVENIENT CAPSULES
The MM240 Micronized Glutamine capsules are a perfect complement to Mass Machine Nutrition's MM525 Micronized Glutamine powder. The convenient glutamine capsules make it easier for you to stay on your structured nutritional supplement program.
MM240
MICRONIZED GLUTAMINE CAPSULES

DESIGN

MM240 Micronized Glutamine capsules are comprised of 100% pure, no filler added, free-form glutamine amino acids. L-Glutamine has been battle tested for over 40 years by almost every bodybuilder and sports athlete for very good reasons. This powerful amino acid makes up the overwhelming majority of amino acids found in the body and is one of the most common amino acids found in organic matter. That being said, it is easy to understand just how necessary L-Glutamine is for homeostasis and keeping our bodies maintained and functional.

L-Glutamine is clinically proven to reduce recovery time by repairing the muscle fibers immediately and activate more satellite cells within the muscle so more amino acids can be recruited for faster repair.* MM240 Micronized Glutamine capsules will aid in the removal of lactic acid and help prevent lactic build up.* This means your muscles can work longer and harder. L-Glutamine has also been suggested to support the neurotransmitter synapses and mitochondria in the brain which may support your mental acuity inside the gym and in everyday life.* Feel free to add MM240 Micronized Glutamine capsules to your Mass Machine Nutrition MM300 BCAA SUPREME amino-acid drink to beef up the recovery process!*
STAY UP-TO-DATE!
TRAINING
|
NUTRITION
|
MOTIVATION
|
SUPPLEMENTS
Do you have a question about training, nutrition, motivation, or supplements? Get them answered by Skip La Cour himself in his Skip La Cour Mass Machine Training" thread in the Forum section. CLICK HERE! You can also learn from the questions asked by others and from the articles, videos, podcasts, training routines, diets, and more posted on a continual basis.
You want to know more about Skip La Cour, Mass Machine Nutrition, what you need to know about proprietary blends, and how to make the most out of your supplement investment?
...Check out
The Video