Warning: This product is not currently available at any store.
Click the button above and PricePlow will email you when the first store has it in stock!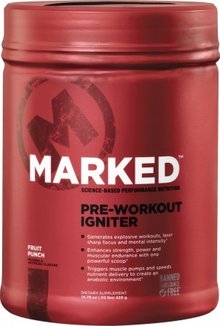 Marked Nutrition Pre-Workout Igniter
Marked Pre Workout Igniter is a supplement from Mark Wahlberg's product line that promotes muscle pumps during workouts, gives a strong mental focus, improves strength, and increases endurance. The product has zero banned substances and ingredients!
Ingredients and Benefits:
Pre Workout Igniter is a proprietary blend that has 3 grams of micronized creatine, 1.5 grams of beta-alanine, and a combination of brainched chained amino acids. The creatine helps add muscle mass and increase strength and muscle density. The brainched chained amino acids help put the body in a positive nitrogen balance, which puts the body in an anabolic state.
Other ingredients in Igniter include a combination of L-arginine, L-citrulline, and grape seed extract. These nitric oxide boosting ingredients provide a fast supply of nutrient delivery that promotes muscle pumps during a workout. The muscle pumps also stay in place several hours after the workout. These ingredients also create more blood flow within the muscle cells.
Strength Benefits:
As stated above, Igniter contains micronized creatine which has been scientifically proven to help increase strength and power. Competitive weightlifters, power lifters, and strength gurus will reap the benefits of Igniter because of the strength increases that can happen. Several top ranked power lifters and professional strongmen use Igniter before training sessions.
Muscle Mass Benefits:
Fitness gurus that want to put on muscle hypertrophy will be amazed at the results that they will get when they take the supplement Igniter. Igniter contains brainched chained amino acids which increase the muscle mass production in the body. Other ingredients such as l-arginine and l-citrulline will also aide in the muscle building process.
Mental Alertness:
Many fitness enthusiasts feel that the product helps a great deal with mental alertness, which keeps trainers focused on completing more sets and reps in the gym. The mental alertness also helps athletes keep proper exercise form and to keep them focused on their overall goals.
---
Directions:
The company says that you should mix one scoop with between 8-10 ounces of water, milk, or your favorite sports drink before your workout. Some reports have shown that you can take 2 servings before workouts. It is recommended to take the product between 30-60 minutes before each workout. Always discuss supplement use with a doctor before taking this or any other product.
Side Effects:
Not many side effects have been reported. Some people say that mixing the product with milk could be a bad idea, especially before a workout. Some people have reported stomach aches when mixing with milk, but nothing serious.
---
Reviews:
Marked is actor and celebrity Mark Wahlberg's nutrition line. Wahlberg has used this product to get in shape for his latest action movies, in which he has put on a significant amount of muscle mass. The reviews on various nutrition websites and magazines are very favorable for this product. Many other celebrities and fitness enthusiasts have endorsed the product saying that the pre workout supplement is great for many reasons, including muscle gain, improved mental focus, strength increase, and fat loss.