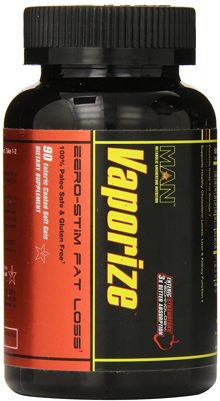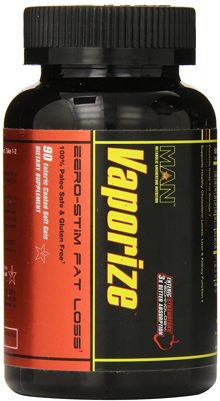 Vaporize is an excellent stimulant-free fat burning product by the experts at MAN Sports. This product is great for those who don't handle stimulants well and is a perfect addition to any fat burning stack. As with most stacks, a fat burner that does contain stimulants, such as their other fat burner, Scorch, is recommended.
The product is based around a simple formula utilizing just two ingredients. MAN Sports makes a lot of claims about Sesamin in this product, some of which are pretty well supported by science, some of which are a bit of a stretch and lack human data to back them but the product is worth giving a try and comes from a very reputable company.
The Vaporize Ingredients
The formula is composed of two ingredients, the first of which is sesame seed oil.
Specifically targeted for its Sesamin Lignans content (around 50% of the extract).
The Sesamin Benefits
Sesamin boasts numerous benefits, just a few of which are:
First and foremost, increased fat loss.

Sesamin is believed to elicit this effect via activating the peroxisome proliferator-activated receptor (PPAR). More potent pharmaceutical PPAR agonists are marketed for metabolic syndrome and blood sugar improvement effects, Sesamin isn't quite so potent but demonstrates effects in the same area.

PPAR agonism enhances liver function which releases more fat oxidizing enzymes into your body resulting in better utilization of fat for energy. This all works out great in animal models but due to species-specific differences the effects are less noted in humans.

Protects the kidneys and enhances renal function via activation of eNOS (endothelial nitric oxide synthase) in the kidneys. This also leads to increased vasodilation and blood flow throughout the body.

Sesamin is antihypertensive, that is it can lower elevated blood pressure. This is of particular note when stacking Vaporize with a fat burner that contains stimulants, as many stimulants can increase blood pressure

It can help maintain cholesterol in a healthy range, and promote the positive effects of good cholesterol while limiting that of bad cholesterol

Both independent of and in coordination with consumption of healthy fats it can help optimize the Omega 3 to Omega 6 ratio in favor of the healthy Omega 3 fats.
The only issue comes down to how much you trust that the animal data will carry over well to humans.
Sesamin is generally accepted to be more effective when consumed with essential fatty acids. This explains the second ingredient included in Vaporize; fish oil.
Fish oil is a supplement that has a plethora of proven effects in humans, and something that everybody should be supplementing with. Check out our page on the benefits of fish oil for more information.
What to expect
Ultimately you can expect to see some minor to moderate changes in body composition over an extended period of time while taking MAN Vaporize. It will certainly stack well with Scorch, or another stimulant-containing fat burner as well as provide general health benefits with regular use.
To optimize the effects you are going to need to take near the maximum dose of the product, (2 caps 3 times per day) so as to consume enough Sesamin and fish oil.
Where to Buy
To save money, it's best to buy supplements online, and you can start with that by comparing the prices here on this page. You can find a better selection at better prices than any brick and mortar store can offer. Vaporize is available at great prices at online stores everywhere, take a look at the price comparison on the page to see where you can buy it the cheapest.