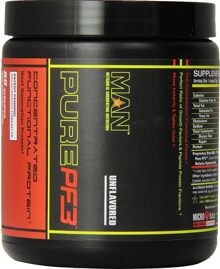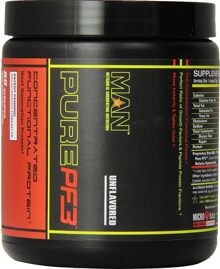 Update, May 21, 2014: Unfortunately, the raw ingredient supplier for PF3 is moving this to a prescription-only sales channel. This means that MAN will no longer be able to sell any more. Better stock up now!
MAN Sports Pure PF3 is the only concentrated protein with the highest quality ingredients available. No pixy dusted ingredients, no empty calories, no added filler ingredients and minimal packaging means the absolute cleanest, healthiest and best value for you.*
We've all heard it - you need 40-50g of protein twice daily... it's what all of the mags say. This is just not true anymore. Taking a concentrated dose of functional value yielding super dosed peptide protein fractions and growth factors blows away the results of low grade nutritional value alone everyday.*
If your one of the millions of people that drinks a protein shake and experiences stomach bloat, belching, muscle soreness days after a workout, and your gaining fat from the surplus of empty calories you're ingesting - then you are absolutely drinking the low grade, useless filler protein that I'm preaching about.
Clearly, you deserve better. You deserve a protein with high Functional Value that will reward you for your hard efforts in the gym.
Here's what we've done – we've created a safe, highly effective protein that delivers a super dose of Functional Value.*
Called Pure PF3, this protein is manufactured and processed in a cutting-edge, state-of-the-art $25 million facility that doesn't produce anything other than Pure PF3.
The scientific method for manufacturing, isolating, and concentrating functional value, growth factors, and peptide protein fractions to a safe measurable powder in Pure PF3 is the first of its kind.*
In fact, the unique, compounded, patent-pending processing of Pure PF3 is a major reason why it is rapidly absorbed, non-bloating, and ideal to regenerate lean tissue.*
When it Comes to Protein Size Matters
"High-molecular weight protein" refers to the weight of the protein molecule. Generally, the higher the molecular weight, the greater the complexity of the protein and the slower the protein digests. The Immunoglobulin G protein (IgG) found in Serum Protein Isolate is over fifteen times stronger than whey protein isolate, offering the highest level of strength and molecular weight of any protein source ever developed.*
Protein Isolate Breakthrough ///// Serum Protein Isolate
The high molecular weight causes the protein to pass through the intestinal wall nearly 15x faster than whey isolate, but once in your blood stream the high molecular weight acts the opposite by slowing down the flow of nutrients therefore allowing super assimilation, absorption, and massive spike in bio–availaibity of the protein molecules. Slower digestion allows the amino acids to stay in the bloodstream for a longer period of time and reduces the body's need to break down lean muscle tissue for physiological processes aka catabolic state. Simply put, anyone who can afford high molecular weight protein should buy it.*
References
Aoi W, Naito Y, Yoshikawa T. Exercise and functional foods. Nutr J 2006;5:15.
Tipton KD, Elliott TA, Cree MG, Wolf SE, Sanford AP, Wolfe RR. Ingestion of casein and whey proteins result in muscle anabolism after resistance exercise. Med Sci Sports Exerc 2004;36(12):2073-2081.
Tang JE, Moore DR, Kujbida GW, Tarnopolsky MA, Phillips SM. Ingestion of whey hydrolysate, casein, or soy protein isolate: effects on mixed muscle protein synthesis at rest and following resistance exercise in young men. J Appl Physiol 2009;107(3):987-992.
Schmitz SM, Hofheins JE, Lemieux R. Nine weeks of supplementation with a multi-nutrient product augments gains in lean mass, strength, and muscular performance in resistance trained men. J Int Soc Sports Nutr 2010;7:40.
Cribb PJ, Williams AD, Stathis CG, Carey MF, Hayes A. Effects of whey isolate, creatine, and resistance training on muscle hypertrophy. Med Sci Sports Exerc 2007;39(2):298-307.
Coburn JW, Housh DJ, Housh TJ et al. Effects of leucine and whey protein supplementation during eight weeks of unilateral resistance training. J Strength Cond Res 2006;20(2):284-291.
Perez-Bosque A, Pelegri C, Vicario M et al. Dietary plasma protein affects the immune response of weaned rats challenged with S. aureus Superantigen B. J Nutr 2004;134(10):2667-2672.
Nofrarias M, Manzanilla EG, Pujols J et al. Effects of spray-dried porcine plasma and plant extracts on intestinal morphology and on leukocyte cell subsets of weaned pigs. J Anim Sci 2006;84(10):2735-2742.
Corl BA, Harrell RJ, Moon HK et al. Effect of animal plasma proteins on intestinal damage and recovery of neonatal pigs infected with rotavirus. J Nutr Biochem 2007;18(12):778-784.
Jiang R, Chang X, Stoll B et al. Dietary plasma protein is used more efficiently than extruded soy protein for lean tissue growth in early-weaned pigs. J Nutr 2000;130(8):2016-2019.
Gleeson M, Nieman DC, Pedersen BK. Exercise, nutrition and immune function. J Sports Sci 2004;22(1):115-125
Bishop NC, Walsh NP, Haines DL, Richards EE, Gleeson M. Pre-exercise carbohydrate status and immune responses to prolonged cycling: I. Effect on neutrophil degranulation. Int J Sport Nutr Exerc Metab 2001;11(4):490-502.
Walsh NP, Gleeson M, Shephard RJ et al. Position statement. Part one: Immune function and exercise. Exerc Immunol Rev 2011;17:6-63.
Brock-Utne JG, Gaffin SL, Wells MT et al. Endotoxaemia in exhausted runners after a long-distance race. S Afr Med J 1988;73(9):533-536.
Lambert GP. Stress-induced gastrointestinal barrier dysfunction and its inflammatory effects. J Anim Sci 2009;87(14 Suppl):E101-E108.
Qamar MI, Read AE. Effects of exercise on mesenteric blood flow in man. Gut 1987;28(5):583-587
Selkirk GA, McLellan TM, Wright HE, Rhind SG. Mild endotoxemia, NF-kappaB translocation, and cytokine increase during exertional heat stress in trained and untrained individuals. Am J Physiol Regul Integr Comp Physiol 2008;295(2):R611-R623.
Playford RJ, MacDonald CE, Calnan DP et al. Co-administration of the health food supplement, bovine colostrum, reduces the acute non-steroidal anti-inflammatory drug-induced increase in intestinal permeability. Clin Sci (Lond) 2001;100(6):627-633.
Wallace JL. The 1994 Merck Frosst Award. Mechanisms of nonsteroidal anti-inflammatory drug (NSAID) induced gastrointestinal damage--potential for development of gastrointestinal tract safe NSAIDs. Can J Physiol Pharmacol 1994;72(12):1493-1498.
Pedersen BK, Hoffman-Goetz L. Exercise and the immune system: regulation, integration, and adaptation. Physiol Rev 2000;80(3):1055-1081.
Bosenberg AT, Brock-Utne JG, Gaffin SL, Wells MT, Blake GT. Strenuous exercise causes systemic endotoxemia. J Appl Physiol 1988;65(1):106-108.
Jeukendrup AE, Vet-Joop K, Sturk A et al. Relationship between gastro-intestinal complaints and endotoxaemia, cytokine release and the acute-phase reaction during and after a long-distance triathlon in highly trained men. Clin Sci (Lond) 2000;98(1):47-55
Isolauri E. Probiotics in human disease. Am J Clin Nutr 2001;73(6):1142S-1146S.
Bosi P, Casini L, Finamore A et al. Spray-dried plasma improves growth performance and reduces inflammatory status of weaned pigs challenged with enterotoxigenic Escherichia coli K88. J Anim Sci 2004;82(6):1764-1772.
Perez-Bosque A, Miró M, Polo J et al. Dietary plasma protein supplements prevent the release of mucosal proinflammatory mediators in intestinal inflammation in rats. J Nutr 2010;140(1):25-30.
Gao YY, Jiang ZY, Lin YC, Zheng CT, Zhou GL, Chen F. Effects of spray-dried animal plasma on serous and intestinal redox status and cytokines of neonatal piglets. J Anim Sci 2011;89(1):150-157.
Peace RM, Campbell J, Polo J, Crenshaw J, Russell L, Moeser A. Spray-dried porcine plasma influences intestinal barrier function, inflammation, and diarrhea in weaned pigs. J Nutr 2011;141(7):1312-1317.
Bloomer RJ, Larson DE, Fisher-Wellman KH, Galpin AJ, Schilling BK. Effect of eicosapentaenoic and docosahexaenoic acid on resting and exercise-induced inflammatory and oxidative stress biomarkers: a randomized, placebo controlled, cross-over study. Lipids Health Dis 2009;8:36.
Neubauer O, Reichhold S, Nersesyan A, Konig D, Wagner KH. Exercise-induced DNA damage: is there a relationship with inflammatory responses? Exerc Immunol Rev 2008;14:51-72.
Ostapiuk-Karolczuk J, Zembron-Lacny A, Naczk M et al. Cytokines and cellular inflammatory sequence in non-athletes after prolonged exercise. J Sports Med Phys Fitness 2012;52(5):563-568.
Pierce JL, Cromwell GL, Lindemann MD, Russell LE, Weaver EM. Effects of spray-dried animal plasma and immunoglobulins on performance of early weaned pigs. J Anim Sci 2005;83(12):2876-2885.
Thomson JE, Jones EE, Eisen EJ. Effects of spray-dried porcine plasma protein on growth traits and nitrogen and energy balance in mice. J Anim Sci 1995;73(8):2340-2346.
Morel PCH, Schollum LM, Buwalda TT, Pearson G. Digestibility of bovine immunoglobulin in the piglet. In: Hennesey DP, Cranwell PD, editors. Manipulating pig production V.Werribee, Australia: Australasian Pig Science Association; 1995. 181
Rodriguez C, Blanch F, Romano V, Saborido N, Rodenas J, Polo J. Porcine immunoglobulins survival in the intestinal tract of adult dogs and cats fed dry food kibbles containing spray-dried porcine plasma (SDPP) or porcine immunoglobulin concentrate (PIC). Animal Feed Science and Technology 2007;139(3):201-211.
Hanning RM, Drew M. Bovine Immunoglobulin Feeding Trial. McMaster University; 1999 May.
Pluske JR, Williams IH, herne X. 1996. Villous height and crypt depth in piglets in response to increases in the intake of cows' milk after weaning. British Society of Animal Science 1996;62:145-148.
King MR, Morel PCH, Pluske JR, Hendriks WH. A comparison of the effects of dietary spray-dried bovine colostrum and animal plasma on growth and intestinal histology in weaner pigs. Livestock Science 2008;119:167-173.
Jiang R, Chang X, Stoll B et al. Dietary plasma protein reduces small intestinal growth and lamina propria cell density in early weaned pigs. J Nutr 2000;130(1):21-26.
Thomson JE, Jones EE, Eisen EJ. Effect of spray-dried porcine plasma protein on feed intake, growth rate, and efficiency of gain in mice. J Anim Sci 1994;72(10):2690-2695.
US Food and Drug Administration. Agency Response Letter GRAS Notice No. GRN 000255. 2008. 10-29-2012.
Asmuth DM, Garcia JC, Knight T, Mann S, Flynn N. Serum-derived bovine immunoglobulin reduces stool frequency/gastrointestinal symptoms and reduces systemic immune activation in subjects with HIV enteropathy. Seattle, WA.: 19th Conference on Retroviruses and Opportunistic Infections; 2012.
Earnest CP, Jordan AN, Safir M, Weaver E, Church TS. Cholesterol-lowering effects of bovine serum immunoglobulin in participants with mild hypercholesterolemia. Am J Clin Nutr 2005;81(4):792-798.
Lembcke JL, Peerson JM, Brown KH. Acceptability, safety, and digestibility of spray-dried bovine serum added to diets of recovering malnourished children. J Pediatr Gastroenterol Nutr 1997;25(4):381-384.
Bégin, Santizo MC, Peerson JM, Torun B, Brown KH. Effects of bovine serum concentrate, with or without supplemental micronutrients, on the growth, morbidity, and micronutrient status of young children in a low-income, peri-urban Guatemalan community. Eur J Clin Nutr 2008;62(1):39-50.
Hunt E, Fu Q, Armstrong MU et al. Oral bovine serum concentrate improves cryptosporidial enteritis in calves. Pediatr Res 2002;51(3):370-376.
Perez-Bosque A, Amat C, Polo J et al. Spray-dried animal plasma prevents the effects of Staphylococcus aureus enterotoxin B on intestinal barrier function in weaned rats. J Nutr 2006;136(11):2838-2843.