Quick Links to Best Prices Price History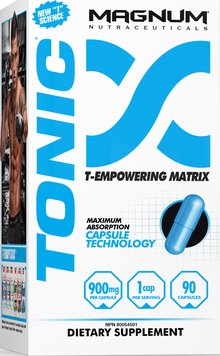 Magnum Nutraceuticals Tonic
Magnum Tonic
Magnum Tonic offers one of the very best values for a natural testosterone support supplement.* Using innovative, High-Grade ingredients, Magnum Tonic may support increased free-flowing testosterone.*
Magnum Tonic Is an excellent choice for a natural testosterone supplement because:
It has a supply of 4 of the top natural testosterone-supporting ingredients available*
It has 900mg per capsule
It includes Vitex berry, which is only found in the "higher-priced" test. products
You will not inhibit or disrupt your natural testosterone production*
Every ingredient is High-Grade
Why take a testosterone booster?
Testosterone boosters are created for men looking to improve and support their natural testosterone production.* These products are best used to enhance lean muscle mass and support testosterone production, and the amount of free-flowing testosterone.*
Tonic will help to produce the following results:
Increased lean muscle mass support*
Support testosterone production and recognition without negatively impacting your body's ability to do it naturally*
Supported blood flow and muscle hardening*
Magnum Tonic is ideal for any man who:
Is trying to support increased lean muscle mass & improve body composition*
Wants to support testosterone production and recognition without negatively impacting his body's ability to do it naturally*
Wants to promote strength and endurance*
Magnum TOnic is best stacked with:
Frequently Asked Questions
What results can I expect from taking Magnum Tonic?
Results include added support for strength gains, endurance, muscle hardening and a difference in your recovery between workouts.*
Why is it not recommended for women to take Magnum Tonic?
As Magnum Tonic effects testosterone levels, unless a woman is trying to increase her testosterone (by suggestion of her physician), it should be avoided by females.
Magnum Tonic claims to be a true "testosterone booster," will I test positive for anything questionable?
**If you compete in a strict federation, it is best to check the ingredients of Magnum Tonic with the governing body of your sport before using.