Quick Links to Our Prices
How does this work and how do stores get listed? See our disclosure below to learn more. Price History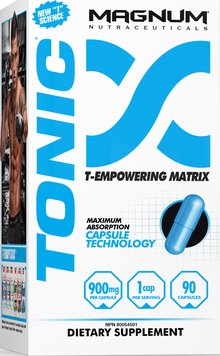 Magnum Nutraceuticals Tonic
Alpha in a capsule
Magnum Tonic delivers everything you're looking for in a natural test booster without the huge price tag. This hormonal supporting supplement provides so much natural energy, vigor, and sexual support that you'll feel better then you have in years after only a few days of usage.*
Ingredients in Magnum Tonic will support:
The amount of luteinizing hormone produced in the pituitary*
The ratio of free testosterone to bound (useless) testosterone*
Both mental and physical performance in hard training athletes*
Sexual health*
A High Quality Product Will Produce the Following Results:
Increased recovery from high intensity training*
Support libido and sexual health*
Optimized hormonal environment*
Improved natural energy*
MAGNUM TONIC IS THE BEST CHOICE FOR YOUR HORMONAL SUPPORTING PRODUCT BECAUSE:*
High quality ingredients for better, faster results.*
Formulated to support your testosterone levels naturally!*
Encapsulated for maximum absorption – delivering an effective dose every time you take it.*
A full 900mg per capsule, synergistic formula at an affordable price point.*
Bulgarian Tribulus Terrestris (45% Saponins) first came to prominence in the late 90's and was based on research conducted in Eastern Europe suggesting it elevated Luteinizing hormone and testosterone.* Tribulus has two main active compounds, saponins and protodioscin that may support an increase in testosterone within normal ranges by raising the amount of LH (luteinizing hormone) that is produced by the pituitary gland. LH plays a significant role in regulating testosterone production.*
The effect of Tribulus Terrestris on raising the levels of the lutenizing homone and testosterone.
Authors: The effect of Tribulus Terrestris on raising the levels of the lutenizing homone and testosterone.
Source: Tribestan effect on the concentration of some hormones in the serum of health subjects (1981)
Tribulus Extract is said to be especially effective for maintaining and maximizing testosterone within normal ranges in individuals who are dieting or engaged in regular, strenuous exercise.*
Oatstraw Extract (4:1) (Avena Sativa) contains alkaloids and saponins that are known for their possible anabolic effect.*
Avenocosides, the active components in Avena Sativa, may help to increase the release of luteinizing hormone from the pituitary gland in the brain.* While Avena Sativa can be naturally stimulating and energy-giving, it has also been shown to aid in sleep*.
Rhodiola Rosea Extract has been clinically studied and suggested to support energy and vigor, allowing athletes, to train harder and longer.* Rhodiola Rosea Extract is an adaptogen herb; it may help to reduce cortisol levels and improve the mood.* Rhodiola Rosea Extract also supports mental and physical performance.*
Chaste Tree Berry Extract (12:1 Acubine) (Vitex Agnus Castus) can help to support sexual health. The essential oil of Chaste Tree Berry Extract contains cineol, pinene, monoterpenes and acubine. It is said that they may help to balance the hormones within normal ranges in the body.*
The effect of Chaste Tree Berry Extract on sexual health.
Authors: Merz, PG; Gorkow C, Schridter A, Rietbrock S, Sieder C, Loew D, Dericks-Tan JS, Taubert HD
Source: The effects of a special Agnus castus extract on prolactin secretion in healthy male subjects (1996).
The Chaste Tree Berry Extract is shown to support the production of natural testosterone within normal ranges.*
Who is in need of magnum tonic?
Anyone wanting to recover faster from weight training*
Anyone wanting to build lean muscle tissue*
Anyone who wants to support sexual health*
Anyone looking for a scientifically supported natural hormonal product*
Anyone on a budget but still looking for the most effective formulation
MAGNUM TONIC WAS FORMULATED WITH 2 GOALS IN MIND:
Provide hard training athletes with a hormonal supporting product.*

Manufacture it at an affordable price-point for all.
Frequently Asked Questions
Are there any products you recommend to take with Magnum TONIC?
Yes, Magnum TONIC has been formulated to work synergistically with Magnum BIG C, Magnum Hi-5, Magnum ACID & Magnum VOLUME. But really Magnum TONIC can be stacked with any of Magnum's products for your own unique stack.
When is the best time to take Magnum TONIC?
Magnum TONIC is best taken three times daily on an empty stomach. Some athletes like to take one of their servings of TONIC 20 to 30 minutes prior to training, others prefer to take it morning, mid afternoon, and right before bed.