Quick Links to Best Prices Price History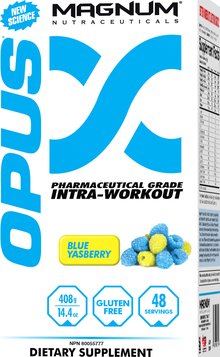 Magnum Nutraceuticals OPUS
YOU'VE NEVER BUILt MUSCLE LIKE THIS BEFORE.
Magnum Opuscreates an anabolic firestorm, causing incredible muscle growth. This groundbreaking formula sends strength levels off the charts by increasing blood flow and hydration of your muscles. Opuslets you break through barriers by supercharging your energy levels, delaying fatigue and pushing muscle performance. You'll feel it working instantly.*
A GREAT WORKOUT FUEL FORMULATION WILL SUPPORT THE FOLLOWING RESULTS:
Activate explosive gains in muscular growth*
Delay the onset of muscular fatigue*
Create new ANABOLIC FUEL within minutes*
Significantly improve strength*
Break through new barriers of muscular performance*
Improve recovery*
INGREDIENTS IN MAGNUM OPUSWILL IMPROVE:
Muscular Performance*
Cellular Energy*
Bloow Flow*
pH balance
Hydration
MAGNUM OPUSIS THE BEST CHOICE FOR YOUR WORKOUT FUEL BECAUSE:
High Quality Ingredients for better, faster results.
It is a 100% stimulant free energy source.
It offers 16 of the most powerful and scientifically proven performance ingredients in the full clinical doses.
It provides energy at the cellular level as opposed to over-dose stimulant products, which only jack up your nervous system.*
A key ingredient in Magnum OPUS is a neurotransmitter in the central nervous system and of major importance to the creation of protein, peptides and creatine.
A key ingredient found in Magnum OPUS is the patented Carnosyn, which is the purest and highest quality Instantized Beta Alanine. CarnoSyn activates enzymes responsible for generating muscle contractions and increases intra-muscular Carnosine, which is used by your type II muscle fibers for explosive movements like weight training and sprinting.*
CarnoSyn Beta Alanine is a non-essential amino acid that is used by muscle cells to synthesize Carnosine. Carnosine is the dipeptide (Beta-Alanine plus Histidine) that functions as a buffer for the hydrogen ions (acid) produced during strenuous exercise, thus helping to maintain optimum muscular pH and prevent the acidity that occurs during exercise. Carnosine is found in large amounts in Type II or "fast twitch" muscle fibers, which are used in explosive movements like weight training and sprinting, a reduction in pH balance causes the muscle burn that you experience while doing high intensity training. Beta-Alanine acts as a precursor to Nitric Oxide (NO) production and works to reduce intra-muscular acidification created by this intense exercise and heavy training.*
A study posted in the Journal of the International Society of Sports Nutrition showed significant improvements in exercise performance when supplementing with CarnoSyn.

Beta Alanine supplementation improves YoYo intermittent recovery test performance*
Authors:

Bryan Suanders, Caroline Sunderland

Source:

ournal of the International Society of Sports Nutrition 2012, 9:39
Seventeen athletes were subjected to the YoYoIR2 test following ingestion of either a placebo or 3.2g of CarnoSyn a key ingredient dosed at this level in Magnum OPUS. The YoYo IR2 is an exercise capacity test designed to last between 5 and 15 minutes and aims to evaluate an individual's ability to perform repeated bouts of high-intensity exercise with a large contribution from anaerobic energy sources as well as aerobic energy systems.
Athletes in the placebo group showed a 7% decline in exercise performance while CarnoSyn supplementation improved exercise performance by 34%.
ATHLETE GROUP
EXERCISE PERFORMANCE
CarnoSynSupplementation Group
34%IMPROVEMENT
Placebo Group
7%DECREASE
Improvements can be attributed to an increase in muscle buffering capacity due to increased muscle Carnosine concentration, attenuating the decline in intramuscular pH during repeated high-intensity exercise bouts.*
TRAIN LONGER AND HARDER, WITHOUT MUSCLE SORENESS*

Magnum OPUS raises your cellular pH levels. Having an acidic pH is not conducive to building muscle. A key ingredient that raises your cellular pH levels is Citrulline Malate.*

Citrulline malate (CM) is the amino acid citrulline, which is involved in ammonia conversion, bonded to the organic Krebs cycle intermediary malic acid. Citrulline is heavily involved in the urea cycle in the kidneys, helping to remove the build-up of ammonia while being converted to arginine in the process, thus releasing nitric oxide (NO). NO is a second messenger in the body, helping promote blood flow and increase nutrient uptake, but bodybuilders know NO for its ability to produce skin stretching pumps. Citrulline increases bicarbonate re-absorption by the kidneys, helping buffer against any change in pH that ammonia build-up can cause during intense exercise such as weight training.*
A study posted in the Journal of Strength and Conditioning Research showed that supplementing with a single dose of Citrulline malate resulted in an amazing 52% increase in the number of reps performed. A decrease of 40% in muscle soreness at 24 hours and 48 hours after the pectoral training session and a higher percentage response than 90% was achieved with CM supplementation.

Citrulline Malate Enhances Athletic Anaerobic Performance and Relieves Muscle Soreness*
Authors:

Pérez-Guisado J, Jakeman PM.

Source:

"Journal of Strength and Conditioning Research" published May 2010
The randomized, double-blind study conducted on 41 men found that a single dose of CM decreased muscle soreness after exercise and significantly enhanced anaerobic activity. The men were able to do 52% more reps during pectoral training sessions, which included flat barbell bench press, and they also experienced a significant decrease of 40% in muscle soreness at 24 hours and 48 hours after the pectoral training session and a higher percentage response than 90% was achieved with CM supplementation.
STUDY
EXERCISE PERFORMANCE
Single Dose Citrulline Malate Results
52%MORE REPS
DECREASE IN MUSCLE SORENESS*40%
Citrulline Malate is also a great choice when looking to improve athletic performance and recovery, especially when combined with CarnoSyn, as the two ingredients are central in raising intercellular pH levels to combat fatigue, allowing you to train longer and harder, while offsetting the soreness usually attributed to this new found training intensity.*
THE FIRST
WORKOUT FUEL
THAT YOU CAN FEEL
IN MINUTES

Magnum OPUS puts your body in an anabolic state from the first serving, ensuring that you are building, not burning, muscle whether you're doing endurance activities or high intensity weight training.

Magnum OPUS is the first workout fuel that you feel in minutes without any stimulants. Magnum OPUS enables you to train harder than ever before with no fear of losing muscle or energy production breakdown.*

A key ingredient that allows you to train harder without burning muscle tissue is L-Leucine. Leucine is a branched-chain amino acid, or BCAA, that is an essential source of energy for your muscles. Your body is unable to produce it on its own so it must be supplemented or obtained from food. Leucine can help your muscles recover and prevent muscle loss after exercise and also increase your endurance by increasing the fuel your muscles have to work properly and by preserving energy stores in your muscles. Leucine is the only dietary amino acid that has the capacity to stimulate muscle protein synthesis.*
A study posted in the European Journal of Applied Physiology documented the positive effects L-Leucine had on performance.

Effects of dietary leucine supplementation on exercise performance
Authors:

Crowe, Melissa; Weatherson, Jarrad; Bowden, Bruce

Source:

European Journal of Applied Physiology, Volume 97, Number 6, August 2006 , pp. 664-672(9)
Researchers studied the effects of oral treatment with extracts from Rhodiola rosea and Rhodiola crenulata roots on the duration of exhaustive swimming and ATP content in mitochondria of skeletal muscles. Treatment with R. rosea extract significantly (by 24.6%) prolonged the duration of exhaustive swimming in comparison with the control group and the R. crenullata group. R. rosea extract activated the synthesis or resynthesis of ATP in mitochondria and stimulated reparative energy processes after intense exercise. R. rosea is most effective for improving physical working capacity.*
ATHLETE GROUP
POWER OUTPUT
L-Leucine
Supplementation
Group
POWER OUTPUT INCREASE

13%

Placebo
Group

0%

NO INCREASE
ATHLETE GROUP
MUSCLE ENDURANCE
L-Leucine
Supplementation
Group
MUSCLE ENDURANCE INCREASE*

16%

Placebo
Group

0%

NO INCREASE
Leucine not only increases your body's ability to build muscle and increase protein synthesis, but when combined with other endurance promoting ingredients, such as the key ingredients found in OPUS, both anaerobic and aerobic performance increases significantly.*
---
WHO IS IN NEED OF MAGNUM OPUS?
Anyone who lifts weights or plays high intesity sports
Anyone who wants to increase their strength and muscular endurance - FAST*
Anyone trying to build more lean muscle*
Anyone trying to break through training plateaues - whether anaerobic or aerobic
Anyone who trains late at night
---
MAGNUM OPUS WAS FORMULATED WITH THREE GOALS IN MIND
Build muscle

Raise pH levels for more muscular endurance

To increase the rate at which our body produces energy while training and / or under stressThis is a true revolution, one in which we move away from stimulants and nervous energy, and look towards awe-inspiring workouts powered by OPUS's Anabolic Energy!
---
FREQUENTLY ASKED QUESTIONS
If Magnum Opusis stimulant free, why do I feel so much energy?The stimulant free ingredients in Magnum Opusare clinically proven to energize your body on a cellular level – they create energy in your cells and fire you up to work hard!*Will I feel the same kind of energy I get from my high-stimulant based pre-workouts?NO! While you will feel energy on a cellular level, Magnum Opuswill not buzz you like the high-stimulant products and will not alter your mental state like geranamine based products.Why do my face and hands tingle when I take Magnum Opus?Magnum Opushas a large dose of Carnosyn- a patented, ultra-pure Beta Alanine. Beta Alanine is proven to improve blood flow and most people feel this increased blood flow in the form of tingles (primarily on their face and hands). Some people feel the tingles everywhere. This patented ingredient is also proven to increase strength, aerobic and anabolic endurance, and delay muscle fatigue.*What is the optimal way to take Magnum Opus?We recommend on the bottle to take your dose minutes before training (as the ingredients in Magnum Opusabsorb instantly and will take effect instantly). If you weigh over 130 lbs, take 2 scoops and if you weigh less than 130 lbs, just take 1 scoop. However, if you train hard and weigh under 130lbs, don't hesitate to go for the full 2 scoop dose.How fast should I see results from Magnum Opus?Instantly! High quality ingredients in Magnum Opuskick in right away and many people have commented they feel energy and their face tingling before the cup even left their lips!! In case you don't feel the tingles, you will feel the muscular energy and endurance within minutes.*