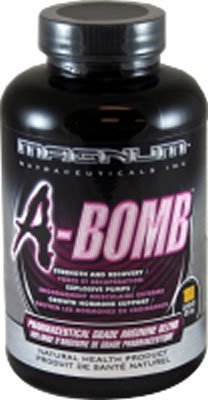 Magnum Nutraceuticals A-Bomb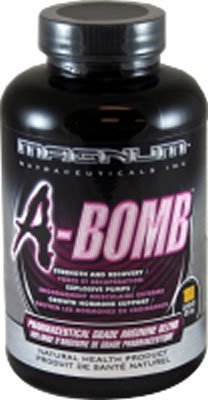 Magnum Nutraceuticals A-Bomb
Magnum ABOMB
Magnum A-Bomb is an Arginine blend that assists with muscle recovery, endurance and protein synthesis.  With every ingredient being Pharmaceutical Grade, Magnum A-Bomb offers five potent, bioavailable sources of Arginine, L-Citrulline to complement the Arginine, and two antioxidants to assist in free radical clean-up.
Why Arginine?
Arginine is a semi essential amino acid that is a building block of protein. Arginine is not manufactured endogenously, and exogenous consumption is required to satisfy Arginine requirements.     Arginine is known best for the "pumps" it creates and is recognized as an all-natural way of increasing strength, growth hormone output, lean muscle mass, and minimizing recovery time.
Arginine will product the following results
• Vaso-dilation – expanding blood vessels to allow more nutrients and nitric oxide to flow into the muscle
• Hardening of muscles
• Increase in strength
• Reduction in recovery time
• An influx of growth hormone
• Improvement in absorption of protein
Why choose ABOMB?
• It offers 5 innovative, bio-available forms of Arginine, including the latest Ethyl Ester technology
• Arginine Ethyl Ester is the first Arginine form to pass the blood-brain barrier, thus effectively saturating every cell in the body with a larger dose of Arginine
• It also has a large dose of L-Citrulline, an amino acid that recycles the Arginine in your system for harder pumps, increased endurance, shorter recovery…
• Every ingredient is Pharmaceutical Grade
| | |
| --- | --- |
| Training Days | Non-Training Days |
| Take 4 capsules 15min before training | Take 4 capsules 15min before breakfast |
| Take 4 capsules immediately after training | Take 4 capsules 30min before lunch |
**Empty stomach is the key to the absorption and ultimately your success with Magnum A-Bomb.