Quick Links to Best Prices Price History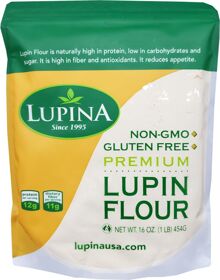 Gluten Free
High Protein
Rich in Dietary Fiber and Minerals
Prebiotic
Low in Fat
Vegan
Non-GMO
100% Pure Plant Origin
Lupina Lupin Flour is uniquely high in protein (up to 40%) and dietary fiber (30%) low in fat (6%) and contains minimal starch; therefore, has very low glycemic index (GI).Lupin beans are a 'GMO free' alternative to soybeans.
Lupin flour is highly digestible and gluten free. Lupin flour is milled from dehulled leguminous lupin kernels. Note: Lupin flour may cause allergic reactions in those with peanut allergies.*
See recipe below. For more lupin flour recipes, visitLow Carb Friends.