Quick Links to Our Prices
How does this work and how do stores get listed? See our disclosure below to learn more. Price History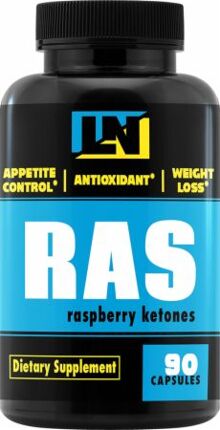 LiveLong Nutrition Raspberry Ketones
BREAKTHROUGH
FAT LOSS SOLUTION*
Raspberry Ketones from LiveLong Nutrition is a powerful compound found in Raspberries, known to help support fat loss and appetite control.* The power of this naturally occurring ingredient discovered in the skin of the Raspberry fruit may hold the key to supporting fat reduction.* Raspberry Ketones from LiveLong Nutrition contain such a concentrated amount of this ingredient, one would have to consume pounds of raspberries to get the same amount of ketones as one dose of this product, and the excessive calories consumed would more than cancel out the benefits, making Raspberry Ketones an effective fat loss support supplement, which may produce results never before seen.* What's more, there are no side effects, no jitters or edginess sometimes associated with other fat loss products.
STIMULANT FREE
STUBBORN FAT LOSS*
Raspberry Ketones from LiveLong Nutrition contains the ingredient originally extracted from the skins of Raspberries, and has been studied extensively for its supporting effect on fat loss and body weight reduction.* What sets this powerful product apart from other fat loss products lies in its ability to release fat from the cell (a process known as lipolysis) without affecting the nervous system, which means a stimulant free solution to promoting healthy body composition.* The side effect profile is nearly non-existent, so at first, you might be surprised to find you feel absolutely nothing, but rest assured, over time, Raspberry Ketones are unlocking stubborn fat, squeezing it right out of the cells so it can be burned for energy.* The result? A consistent and effective fat loss effect without any unwanted side effects.*
GET THE BENEFITS,
WITHOUT THE SIDES
Raspberry Ketones mimic the effect that Norepinephrine has on an enzyme known as hormone sensitive lipase.* Norepinephrine is the body's primary fight or flight hormone, and is responsible for releasing energy quickly in times where a threat is imminent. Norepinephrine accomplishes this fat release by stimulating Hormone Sensitive Lipase (HSL) and then HSL unlocks stubborn body fat so it can be immediately used to run or fight. Studies suggest that Raspberry Ketones may accomplishes the same effect, without causing the stress and nervousness that Norepinephrine can cause. Raspberry Ketones may reduce fat storage, supercharging your dietary and exercise changes.*