Warning: This product is not currently available at any store.
Click the button above and PricePlow will email you when the first store has it in stock!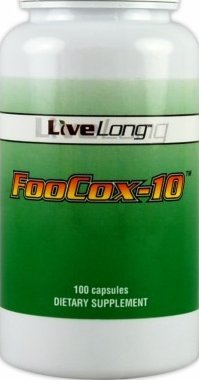 LiveLong Nutrition FooCox-10
Fucoxanthin
Please indulge me in my prefacing of this article with the expression of heartfelt love (yes, I'm over reaching here but it's for a good point) I have for uncoupling agents. Using such compounds have proven invaluable in my past cutting endeavors.
New compounds that may be used safely at any time clearly should be researched and several compounds have recently come into light. One of the more promising agents is fucoxanthin.
In order to describe the benefits of mitochondrial uncoupling, I will elucidate the role that uncoupling plays in body composition. Energy balance in animals is a metabolic state that exists when total body energy expenditure equals dietary energy intake. Energy expenditure, or thermogenesis, can be subcategorized into groups of obligatory and facultative metabolic processes. Brown adipose tissue (BAT), through the activity of uncoupling protein 1 (UCP1), is responsible for nonshivering thermogenesis, a major component of facultative thermogenesis in newborn humans and in small mammals. UCP1, found in the mitochondrial inner membrane in BAT, uncouples energy substrate oxidation from mitochondrial ATP production and hence results in the loss of potential energy as heat. Mice that do not express UCP1 (UCP1 knockouts) are markedly cold sensitive. The recent identification of four new homologs to UCP1 expressed in BAT, muscle, white adipose tissue, brain, and other tissues has been met by tremendous scientific interest. The hypothesis that the novel UCPs may regulate thermogenesis and/or fatty acid metabolism guides investigations worldwide.
We have established that fucoxanthin may act chiefly on UCP1 and this is primarily responsible for its application towards supporting healthy body composition.* However, there is a large problem with fucoxathin, which no one has addressed yet in product formulation or even stack suggestions. (7).If a product isn't orally bioavailable, little good will come of its use and thus, we are wasting our time and money. However, this issue may be circumvented if fucoxathin is taken with fat. MCT oil (8) and fish oil (9) serve as prime examples but any other form of fat will do. Obviously, if fish oil or MCT oil are not utilized, one should use a a desirable fat source that confers other beneficial properties e.g. Enova, sesamin, CLA, olive oil, flax seed oil, lecithin and so on.
Guanidinopropionic Acid, Green Tea Extract and Salvia miltiorrhiza would also be just about the ideal complimentary choices in addition to Resveratrol. The latter would serve to further support SIRT-1 activation while the former compounds in essence potentiate attainable benefits through quite a stunning layout of synergystic activity.
References:
1) Fucoxanthin from edible seaweed, Undaria pinnatifida, shows antiobesity effect through UCP1 expression in white adipose tissues. Maeda H, Hosokawa M, Sashima T, Funayama K, Miya****a K. Laboratory of Biofunctional Material Chemistry, Division of Marine Bioscience, Graduate School of Fisheries Sciences, Hokkaido University, Hakodate, Hokkaido 041-8611, Japan. PMID: 15896707
2) Radical scavenging and singlet oxygen quenching activity of marine carotenoid fucoxanthin and its metabolites. Sachindra NM, Sato E, Maeda H, Hosokawa M, Niwano Y, Kohno M, Miya****a K. Faculty of Fisheries, Hokkaido University, 3-1-1 Minato, Hakodate 041-8611, Japan. PMID: 17894451
3) Antiadult T-cell leukemia effects of brown algae fucoxanthin and its deacetylated product, fucoxanthinol. Ishikawa C, Tafuku S, Kadekaru T, Sawada S, Tomita M, Okudaira T, Nakazato T, Toda T, Uchihara JN, Taira N, Ohshiro K, Yasumoto T, Ohta T, Mori N. Division of Molecular Virology and Oncology, Graduate School of Medicine, University of the Ryukyus, Nishihara, Okinawa, Japan. PMID: 18798263
4) Seaweed carotenoid, fucoxanthin, as a multi-functional nutrient. Maeda H, Tsukui T, Sashima T, Hosokawa M, Miya****a K. Faculty of Fisheries Sciences, Hokkaido University, Hakodate 041-8611, Japan. PMID: 18296336
5) Fucoxanthin and its metabolite, fucoxanthinol, suppress adipocyte differentiation in 3T3-L1 cells. Maeda H, Hosokawa M, Sashima T, Takahashi N, Kawada T, Miya****a K. Faculty of Fisheries Sciences, Hokkaido University, Hakodate, Hokkaido 041-8611, Japan. PMID: 16786166
6) UCP1: the only protein able to mediate adaptive non-shivering thermogenesis and metabolic inefficiency. Nedergaard J, Golozoubova V, Matthias A, Asadi A, Jacobsson A, Cannon B. The Wenner-Gren Institute, The Arrhenius Laboratories F3, Stockholm University, SE-106 91 Stockholm, Sweden. jan@metabol.su.se PMID: 11239487
7) Low bioavailability of dietary epoxyxanthophylls in humans. Asai A, Yonekura L, Nagao A. National Food Research Institute, NARO, 2-1-12 Kannondai, Tsukuba, Ibaraki 305-8642, Japan. PMID: 18186952
8) Effect of medium-chain triacylglycerols on anti-obesity effect of fucoxanthin. Maeda H, Hosokawa M, Sashima T, Funayama K, Miya****a K. Faculty of Fisheries Sciences, Hokkaido University, Hokkaido, Japan. hayatosp@fish.hokudai.ac.jp PMID: 17992001
9) Dietary combination of fucoxanthin and fish oil attenuates the weight gain of white adipose tissue KK-Ay mice. Maeda H, Hosokawa M, Sashima T, Miya****a K. Faculty of Fisheries Sciences, Hokkaido University, 3-1-1 Minato, Hakodate, Hokkaido 041-8611, Japan. PMID: 17715888