Quick Links to Our Prices Price History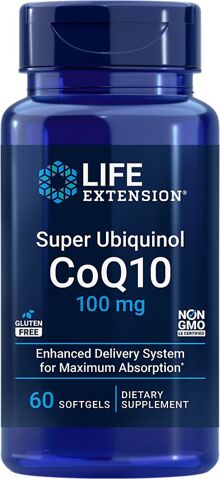 Life Extension Super Ubiquinol CoQ10
The mitochondria are the cells' energy powerhouses, and coenzyme Q10 (CoQ10) is an essential component of healthy mitochondrial function.23 CoQ10 is required to convert the energy from fats and sugars into usable cellular energy. Yet, the body's production of CoQ10 declines significantly with advancing age.24 With an ample amount of CoQ10, the mitochondria can work most efficiently throughout the entire body, including the most densely populated area, the heart.*25 CoQ10 also exhibits antioxidant properties, which may help support mitochondrial function.*26
When CoQ10 is orally ingested, only a certain percentage is actually absorbed into the bloodstream. Findings in human subjects indicate that higher doses of CoQ10 may help provide significantly better effects than the doses supplement users typically take. Since CoQ10 is a comparatively expensive nutrient, an alternative to taking higher doses is to increase the amount of CoQ10 that is absorbed. Life Extension offers the highly bioavailable ubiquinol form of CoQ10 in a patented delivery system with a higher absorption level.31
CoQ10 is notoriously difficult to absorb. When it comes to choosing a CoQ10 supplement, the primary factor is how many swallowed milligrams actually make it into your bloodstream.* Scientific studies suggest that ubiquinol absorbs up to 8 times greater than ubiquinone, and higher levels of ubiquinol remain in the blood far longer than ubiquinone. In studies measuring exercise-induced fatigue, ubiquinol appeared to be more effective than ubiquinone.* In middle-aged mice, ubiquinol was suggested to be more effective in slowing measurements of aging compared to ubiquinone.32
This latest formulation contains an organic compound called PrimaVie shilajit that research suggests may support increased levels of CoQ10 in the mitochondria.*33 Shilajit has been suggested to help restore and sustain cellular energy.* The latest studies surmise that when shilajit is combined with CoQ10, cellular energy gains may increase.* In a breakthrough preliminary study, the combination of CoQ10 and shilajit produced a 56% increase in cellular energy production in the brain, 40% better than CoQ10 alone.* In muscle there was a 144% increase, or 27% better than CoQ10 alone.*34 Researchers have suggested that shilajit works to boost CoQ10's beneficial effects by:
Stabilizing CoQ10 in its powerful ubiquinol form, thereby prolonging its action at the cellular level.*35,36
Facilitating more efficient delivery of CoQ10 into the mitochondria, supporting greater cellular energy output.*37-41 Scientific analysis suggests that shilajit itself is rich in essential compounds that promote mitochondrial metabolism.* Part of shilajit's beneficial effects derives from its ability to help the mitochondria convert fats and sugars into adenosine triphosphate, or ATP, the body's main source of energy.*37-41
Super Ubiquinol CoQ10 with Enhanced Mitochondrial Support combines super absorbable ubiquinol CoQ10 with shilajit to generate a powerful synergy that supports more youthful cellular energy production than CoQ10 alone.*34,36,37
References:
23. Biofactors. 1999;9(2-4):371-8.
24. Lipids. 1989 Jul;24(7):579-84.
25. Mol Aspects Med. 1994;15 Suppl:s165-75.
26. Mol Biotechnol. 2007 Sep;37(1):31-7.
27. Cardiol Rev. 2005 Mar-Apr;13(2):76-9.
28. J Clin Pharmacol. 1993 Mar;33(3):226-9.
29. Biofactors. 1999;9(2-4):291-9
30. Lipids and Aging. 1989; 24(7):579-84.
31. Regul Toxicol Pharmacol. 2006 Aug 17; 57(7-8):546-55.
32. Exp Gerontol. 2006 Feb;41(2):130-40.
33. Systemic CoQ level in animals: Part II. Unpublished study. Natreon, Inc.; 2007.
34. Pharmacologyonline. 2009;1:817-25.
35. Pharmacologyonline. 2009;2:690-8.
36. Electronic Journal of Biotechnology. 2008 Jul 15;11(3).
37. Ghosal S. Shilajit in Perspective. Alpha Science International Limited; 2006.