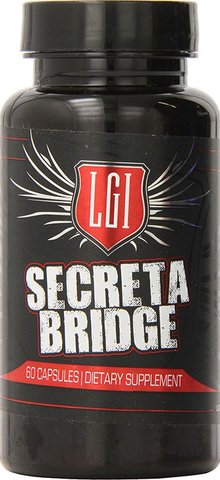 LGI Supplements Secreta Bridge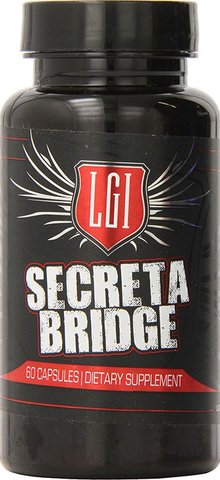 LGI Supplements Secreta Bridge
SecretABridge

SecretABridge is comprised of three very similar compounds, all with anabolic effects that manifest themselves in different ways. Below we will dissect each compound and talk about the amazing scientific research and testing done with each. From raising test levels and anti-aging to chemopreventive therapy and repair of cells, SectretABridge does it all.
Laxogenin, 5a-Hydroxy 50mg
Laxogenin was discovered by an American scientist in 1996 and has shown to possess an anabolic/androgenic ratio similar to Anavar, one of the most efficient anabolic substances, but without the side effects of liver toxicity or testing positive for steroidal therapy. Users will experience gains in both muscle mass and strength. Laxogenin has also shown to increase protein synthesis by over 200% which is accentual in lean muscle growth and accelerated repair. Users will also experience body fat reduction while using this compound as it's shown to balance cortisol response which is key to healthy recovery and reduction of muscle wasting.
Many use Laxogenin for injury and surgery repair as it has shown to regenerate the healing process by 10 fold. It is currently being tested for fistula repair, shoulder repair, knee surgery and general anabolic regeneration issues related to aging.
The catabolic, or destruction of mature healthy cells, has been a problem for science throughout mankind and nothing on the market has shown better for repairing or regenerating cellular decline, making Laxogenin the most important preventative, regenerative product in modern medicine! Laxogenin is a plant sterol and its purpose in the plant kingdom is to ensure survival in inclement conditions and in turn does the same for the human body. Recent science has concluded that plant sterols for age related conditions, such as, DNA repair and regeneration, are some of the most dynamic seen in modern medicine. As anit-aging is now viewed as a disease state, there is nothing better to treat it than Laxogenin. Laxogenin is being currently tested and used for the reversal of many diseases and cancers.
Diosgenin, [(25R)-spirost-5-en-3b-ol] 100mg
Diosgenin, a naturally-occurring steroid saponin is found abundantly in legumes
(Trigonella sp.) and yams (Dioscorea sp.). Diosgenin is a precursor of various synthetic steroidal
drugs that are extensively used in the pharmaceutical industry. Over the past two decades, a series of pre-clinical and mechanistic studies have been independently conducted to understand the beneficial role of diosgenin against metabolic diseases (hypercholesterolemia, dyslipidemia, diabetes and obesity), inflammation and cancer. In experimental models of obesity, diosgenin decreases plasma and hepatic triglycerides and improves glucose homeostasis by promoting adipocyte differentiation and inhibiting inflammation in adipose tissues.
Mechanistic studies using in vitro models suggest that diosgenin suppresses cancer cell growth through multiple cell signaling events associated with proliferation, differentiation, apoptosis, inflammation and on cogenesis.
Diosgenin has also shown to be a promising cognitive enhancer.
More interesting, it appears to directly activate the PI3K pathway. PI3K is an anabolic signaling pathway that's also 'turned on' by IGF-1and GH. The study wasn't in skeletal muscle, but, in light of the results, it's likely that diosgenin has a pro-anabolic effect in skeletal muscle.
Like Laxogenin, Diosgenin is used in many treatments of cancers and other illnesses.
Toxicology studies using relevant experimental models have established that even
at an upper concentration of 3.5% (wt/wt), diosgenin was safe and failed to cause systemic
toxicity, genotoxicity, or estrogenic activity.
Dioscin, (3β,14β,25R)-Spirost-5-en-3-yl 6-deoxy-α-L-mannopyranosyl-(1->2)-[6-deoxy-β-L-mannopyranosyl-(1->4)]-β-D-glucopyranoside 150mg
Dioscin, a natural steroid saponin from the Mexican wild yam root, shows remarkable protective effect against acetaminophen-induced liver damage in vitro and in vivo. Dioscin has also shown to strongly stimulate growth hormone release.
Dioscin is a prodrug to diosgenin however it doesn't immediately convert to diosgenin in the gut,
in fact it converts very slowly so it should still be active in its own right.
Dioscin in animal experiments increased growth hormone secretion to levels twice as high as the control group, effectively doubling growth hormone secretion. In another experiment, herbal extracts containing dioscin were applied to pituitary cells. These experiments showed a 5-10 fold increase in growth hormone secretion! Dioscin is clearly a powerful GH secretagogue.
Serving Size: 1 Capsule
Servings Per Container: 60
Amount Per Serving
Laxogenin, 5a-Hydroxy 50mg
Diosgenin, [(25R)-spirost-5-en-3b-ol] 100mg
Dioscin, (3β,14β,25R)-Spirost-5-en-3-yl 6-deoxy-α-L-mannopyranosyl-(1->2)-[6-deoxy-β-L-mannopyranosyl-(1->4)]-β-D-glucopyranoside 150mg
As a dietary supplement, take 1 to 2 capsules per day.