Quick Links to Best Prices Price History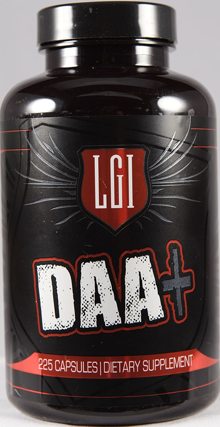 Product Description
DAA by by LGI
DAA by LGI is packed with the natural test boosting amino acid D-Aspartic Acid.
D-Aspartic Acid is a safe, natural way to effectively raise the body's natural test levels.
DAA has been shown to elevate testosterone levels and increase sex drive in men. D-Aspartic Acid plays an important role in sperm production and sexual hormone production as well.
Benefits of DAA Include:
42% increase in Free Testosterone Levels after 12 days of consistent use
Increased amount of testosterone released in the blood
Increased Growth Hormone and Leutinizing Hormone production
Greater mitochondrial efficiency and enhanced oxygen-carrying blood flow
Increased nitric oxide (NO2, NO3) production, promoting fast recovery after workouts
Can be stacked with a Post Cycle Therapy or as a standalone for natural testosterone boosting.
-INCRESED LIBIDO
-NATURAL TEST BOOSTER
-STRENGTH GAIN
-FAT REDUCTION
-LEAN MASS