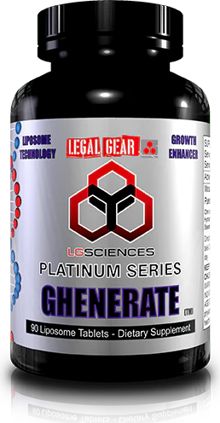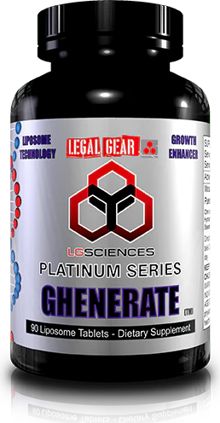 Ghenerate By LG Sciences - 90 Tabs - Muscle Builder
Puerariae Radix is a plant that has one particular constituent that is set to be the next superstar. It is called puerarin. Puerarin is an amazing nutrient that studies suggest shows a 520% increase in growth hormone release by stimulating the GHRH receptor. 520% increase in circulating GH is a huge increase and shows that this second pathway is very potent at releasing GH. This ingredient was an amazing find but the key is the New Cyclosome Delivery System. LG Sciences uses only 98% pure puerarin complexed with cyclodextrin in their formula so it is ultra potent. Puerarin has also theorized to be an anti-aromatase, and a natural SERM, but this is not the main effect, compared to the GHRH stimulation, just a side benefit.
Finally, this wonder ingredient is theorized to be a natural phosphoinositol 3 kinase (PI3K) stimulator which is the same anabolic pathway stimulated by IGF-1 and insulin to load the muscle with glycogen. GHenerate is being touted as the next big thing in recovery and focus. It may help optimize growth hormone levels and counter act the effects of every day stress and over training. Sleep is one of the most important aspects of a bodybuilders plan. It's when the body recovers and releases the most growth hormone. Ghenerate may help you improve your sleep and recovery from the first dose!
---
Cyclosome Technology:
LG Sciences is a pioneer in the Bodybuilding and Prohormone industry by being one of the first companies to introduce many of the Prohormones into the marketplace over the last decade. Researchers at LG Sciences recently developed a proprietary process called Cyclosome Technology. This one-of-a-kind technology brought to you by the leaders in Prohormones involves the entrapment of hydrophobic prohormones and other Testosterone boosting compounds in the form of water-soluble Prohormone–cyclodextrin (CD) complex in liposomes has been investigated as a new strategy to combine the relative advantages of CDs and liposomes into one system, namely Prohormone-in-CD-in-liposome systems called Cyclosome's. You can think of all this in terms of a 'Trojan Horse,' passing through the liver unharmed and intact. As opposed to being destroyed in the liver like all other hormonal products on the market, past and present. This new Cyclosome technology allows the 'Trojan Horse' to deliver prohormones and testosterone boosters to the systemic circulation by the intestinal lymphatic route, circumventing first-pass inactivation in the liver for the very first time. Almost all previous oral capsules and tablets manufactured to increase testosterone — including Testosterone itself — are involved in the "first pass affect" which renders the active compounds virtually useless.
Cyclosome Technology — the most advanced liposomal delivery technology ever developed for bioavailability, is the answer to getting poorly absorbed Testosterone boosting compounds and legal prohormones into the body so they can work! The pharmaceutical industry has embraced this cutting-edge technology in recent years and now our EpiAndro 50 will be one of the first to utilize it in a testosterone booster and anabolic agent.
For Cyclosome preparation, an overall understanding of the interaction between CDs and lipid components of liposomes is necessary for this complex. LG Sciences has developed a double-loading technique, which is a revolutionary strategy to prohormone release and increase prohormone-loading capacity. The Cyclosome approach can be useful in increasing prohormone solubility and vesicles stability, in controlling the in vivo fate of hydrophobic compounds and in avoiding burst release of prohormones from the vesicles. To obtain a stable Cyclosome, the CDs should have a higher affinity to prohormone molecules compared with liposomal membrane lipids. Cyclosomes prepared by LG's double-loading technique are the most advanced targeted prohormone delivery system ever developed because they have a fast onset action with prolonged prohormone release process and the significantly enhanced prohormone-loading capacity.
---
What's In LG Sciences Ghenerate?
How Do I Take LG Sciences Ghenerate?
Take 1-3 Tablets of Ghenerate at night time prior to sleep and take 3 tablets of Ghenerate prior to exercise. Do not exceed 6 Tablets of Ghenerate per day.
Warnings:
These products are not anabolic steriods and all claims are theories. LG Sciences' products will only assist you in reaching your fitness goals. Muscle and weight gain are the result of hard exercise and proper diet, supplements are not a replacement.
PLEASE NOTE: Product image is representative of the product offered but may not have the exact attributes. Please read product description for the specific attributes of this product.
PLEASE NOTE: The information above is intended for reference only. While we attempt to keep our information accurate, we cannot guarantee it is an accurate representation of the latest formulation of the product. If you have any concerns, please visit the vendor's web site. The information above are the views of the product's manufacturer, not the views of Same Day Supplements. These statements have not been evaluated by the Food and Drug Administration. This product is not intended to diagnose, treat, cure or prevent any disease.
*Prices are subject to change at any time and some items are limited to stock on hand.
In-stock orders placed before 3pm EST ship out the same day.
We offer many shipping options to countries like:
Brazil
United Kingdom
Canada
Germany
Australia
Japan
India
France
Israel
Worldwide