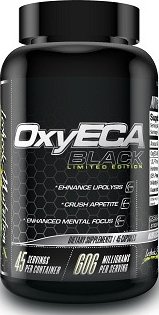 Lecheek Nutrition OxyECA Black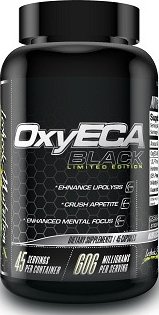 Lecheek Nutrition OxyECA Black
Swipe left/right to reveal product information
The Next Generation of Fat Burning is BACK IN BLACK!
Enhanced Lipolysis*
Crushed Appetite*
Enchanced Mental Focus*
Elevated Mood*
Extreme Energy*
OxyECA Black uses KEY unique stimulant ingredients that will alter body composition. The thermogenic ingredients will literally raise your body temperature to the point where you are consistently burning calories throughout the day. Ever feel like your just dragging so much that nothing can get you going in the morning or when mid-afternoon hits? Our key ingredients are sure to give you not only a JOLT of energy but long sustained energy with out that awful crash feeling.*
If you're looking to break through a plateau and achieve peak levels of energy and performance OxyECA Black is the fat burner for you. Complete fat blasting matrix with key ingredients to peak energy levels. Dieting for a show and lacking energy? OxyECA Black is the JOLT of ENERGY you need to get you through those low carb days.*
For maximal results stack with New Hyper T2 from Lecheek Nutrition.