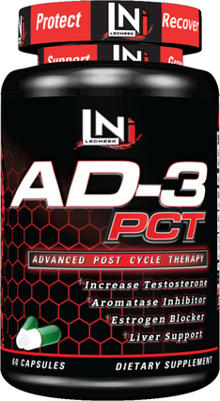 Lecheek Nutrition AD-3 PCT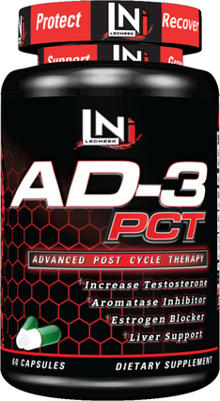 Lecheek Nutrition AD-3 PCT
A Complete PCT In One Bottle
Increase Testosterone*
Aromatase Inhibitor*
Crush Cortisol*
Lean Dry Gains*
Liver Support*
GH Support*
Destroy Estrogen*
New AD-3 PCT by Lecheek Nutrition is the latest and greatest Post Cycle Therapy we've ever created. AD-3 consists of a full spectrum PCT which includes Armistane (Androsta-3,5-diene-7,17-dione) which may drastically lower estrogen and may increase natural testosterone production at a very fast rate. We at Lecheek Nutrition know you are looking for quality and comprehensive PCT so we also included GH Support and Liver support to promote a safe and effective post cycle recovery.*
AD-3 PCT Ingredient Overview
Arimistane (Androsta-3,5-diene-7,17-dione):
Arimistane is suggested to be a potent aromatase inhibitor (AI) that works to decrease circulating levels of estrogen in the body.*
Arimistane may reduce the amount of androgens in the body that can convert into estrogen by acting as a suicide inhibitor, effectively binding to the aromatase enzyme and creating an irreversible reaction.*
Arimistane has exhibited a superior binding affinity over other AIs to the aromatase enzyme, leading to a greater ability in shutting down the active enzyme. Binding affinity is measured in Ki value, which indicates how well the aromatase inhibitor binds to the aromatase enzyme.*
Arimistane is suggested to effectively manage estrogen and increase testosterone levels...now this is something to brag about!*
Milk Thistle
Milk thistle is a thistle of the genus Silybum Adans., a flowering plant of the daisy family (Asteraceae). The plant is native to the Mediterranean regions of Europe, North Africa and the Middle East. The name "milk thistle" derives from a feature of the leaves, which are prominently banded with splashes of white. Historically, these milky bands were thought to be Mother Mary's milk, and this is the origin of another common name, St. Mary's thistle.
The active flavanoid-lignan (flavanolignan) group of constituents, called silymarin, contained only in the seed shell may have liver-protective and regenerative properties, as well as antioxidant effects. The liver-protective effects were written about in ancient times, leading to the active chemical, pharmacological, and safety research beginning in Germany in the 1950s.*
Mucuna Pruriens
The amazing herbal adaptogen that is mucuna pruriens is thought to have effects of tonifying and strengthening. Perhaps it is best known as a potent herbal aphrodisiac. This Indian herb is known by many names, some of which are cowitch, cowhage, velvet beans, sea beans, buffalo beans, Kapikachu, Atmagupta and many more!*
The prickly orange hairs on the outside of the pod cause severe itching when they come in contact with the skin. The main medicinal effects thought to be attributed to mucuna pruriens come from the seeds, but the pod and its hairs and the plant's roots can also be used in herbal preparations. The velvet beans are "drift seeds", which is a name given to any seeds that can float away on ocean currents to grow in other regions of the world.