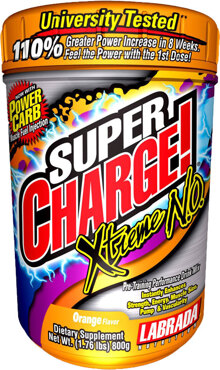 Labrada Super Charge Xtreme N.O.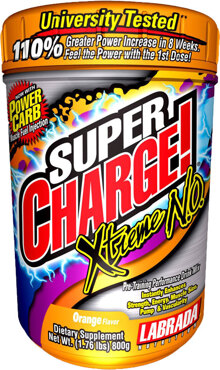 Labrada Super Charge Xtreme N.O.
Performance Enhancer Drink Mix
All New Xtreme 4.0 Formula
Now with BCAAs & No Artificial Colors!
Increase Energy, Strength, Muscle Volume & Endurance!*
Up to 50 Workouts per Bottle in 6 Awesome Flavors!
Are you a bodybuilder or an athlete who wants to increase strength, energy, endurance, and mental focus during your training? Then you need to check out Labrada's newest pre-workout performance enhancer, Super Charge! Xtreme 4.0. It's the newest version of our popular Super Charge! Xtreme, and it's packed with powerful new ingredients to take your workouts to new heights.*
Super Charge! Xtreme 4.0 provides you with the 10 most effective performance enhancing sports supplements, in one easy-to-use, concentrated daily dose. It's the perfect all-in-one performance supplement.*
Super Charge! Xtreme 4.0 contains no compounds and is safe for athletes. And, Super Charge! 4.0 is now artificial color free. It's the perfect all-in-one performance supplement.*
Just take two scoops 30 minutes before training and get ready for the best work out of your life! Unlike other pre-workout supplements, Super Charge! Xtreme 4.0 delivers real world results, backed by science.*
Scientific Studies
In an 8-week study conducted at the University of Kansas in 2010: 30 trained male subjects were separated into two groups. Both groups were put on an effective weight-training program and made significant gains. However, one group used Super Charge! Xtreme (SCX!) prior to training, the other did not. The SCX! group experienced significantly greater gains. The SCX! group showed increases in squat power that were 110% greater than the control group. The SCX! group also experienced bench press max increases that were 70% greater than the control group.
In a clinical study conducted by Human Performance Specialists in Tempe, Arizona in 2008: The study was conducted on test subjects taking one dose of Super Charge! Xtreme before one workout, compared to a control group. The SCX! group experienced an 82% increase in pre-workout mental energy and a 39% increase in bench press reps.
So What Makes Super Charge! Xtreme 4.0 So Effective?
It's no secret that Super Charge! Xtreme 4.0 is the best because it contains more cutting edge, active ingredients than competing supplements. All of the active ingredients in Super Charge! Xtreme 4.0 are listed on the label with their corresponding amounts. Unlike other supplements, the ingredients are not hidden in a so-called "proprietary blend." You can see exactly what you're paying for. We call that "truth in labeling." That's part of our company philosophy at Labrada Nutrition.*
Super Charge! Xtreme 4.0 contains CreaLean pure creatine to increase strength and power, plus PepForm branched chain amino acids and n-acetyl-l-glutamine to protect against muscle breakdown and improve post-workout recovery.*
Super Charge Xtreme 4.0 also contains CarnoSyn to increase muscle endurance up to 29% and Pikatropin to fight fatigue, so you can exercise longer.*
Super Charge! Xtreme 4.0 contains tyrosine and caffeine to improve mental energy and focus during exercise up to 82%.*
Super Charge! Xtreme 4.0 increases blood flow to muscles with powerful nitric oxide boosters-- And fuels them with PowerCarb, an engineered carbohydrate that sustains energy so you can work out longer.*
Each 800g bottle of Super Charge! Xtreme 4.0 will power you through 50 workouts! Compare that to the 30 or 40 workouts that you get from an equal size bottle of a competing pre-workout supplement and you can see Super Charge! Xtreme 4.0 is also the best value.
Now, you can get more out of your workouts than you ever dreamed possible. You'll feel the power of Super Charge! Xtreme 4.0, starting with the first dose!*
Scientific References
Earnest, C. et. al. "The Effect of Creatine Monohydrate Ingestion on Anaerobic Power Indices, Muscular Strength, and Body Composition," Acta Physiol Scand, 1995; 153:207-209.
Ferreira, M. et. al. "Effects of Ingesting a Supplement Designed to Enhance Creatine Uptake on Strength and Sprint Capacity," Medicine & Science in Sports & Excercise 29.5 1997; S146.
Kreider, R.B. et. al. "Effects of Ingesting Supplements Designed to Promote Lean Tissue Accretion on Body Composition During Intense Training," Int J Sport Nutr, 6 (3), 234-236.
Passwater, R.A. Creatine 1997; 28.
Kern BD, Robinson TL., Effects of ß-alanine supplementation on performance and body composition in collegiate wrestlers and football players. J Strength Cond Res. 2011 Jul;25(7):1804-15., Source Human Performance and Physical Education Department, Adams State College, Alamosa, Colorado, USA. bdkern@adams.edu
Woolf K, Bidwell WK, Carlson AG., The effect of caffeine as an ergogenic aid in anaerobic exercise. Int J Sport Nutr Exerc Metab. 2008 Aug;18(4):412-29. Source Department of Nutrition, Arizona State University, Mesa, AZ 85212, USA.
Slivka D, Hailes W, Cuddy J, Ruby B. Caffeine and carbohydrate supplementation during exercise when in negative energy balance: effects on performance, metabolism, and salivary cortisol. Appl Physiol Nutr Metab. 2008 Dec;33(6):1079-85.
Ali A, Williams C. Carbohydrate ingestion and soccer skill performance during prolonged intermittent exercise. J Sports Sci. 2009 Dec;27(14):1499-508. Source Institute of Food, Nutrition and Human Health, Massey University, Auckland, New Zealand.
Jentjens R, Jeukendrup A. Determinants of post-exercise glycogen synthesis during short-term recovery. Sports Med. 2003;33(2):117-44. Human Performance Laboratory, School of Sport and Exercise Sciences, University of Birmingham, Edgbaston, Birmingham, UK.