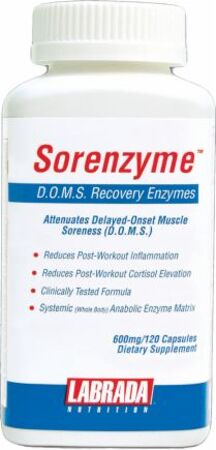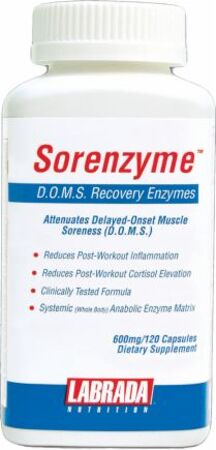 Sorenzyme is the collaborative effort of Labrada's Research & Development team and Dr. Mark J. Tallon, a Nutritional Biochemist who is also one of the industry's leading minds in nutrient metabolism. (Mark is also a regular contributor to Lee Labrada's Lean Body Coaching Club newsletter.) Combining two proven systems in immune and soreness control resulted in a supplement that was safe, effective, all natural, and the first of its kind in the sports nutrition market to control D.O.M.S. (Delayed Onset Muscle Soreness) and deliver body-transforming results.
The Ingredients in Sorenzyme give you:
Naturally Reduces Muscle Soreness (D.O.M.S.)
Accelerates Workout Recovery
Improves Muscle Gains and Performance
A Month's Supply per Bottle
EXCERPT FROM INTERVIEW WITH LEE LABRADA
Clayton South: It's interesting that you mention enzyme supplementation because there is a lot of new science which shows that enzymes not only aiding digestion but also exert tremendous anti-inflammatory effects that can combat inflammation, prevent delayed onset muscle soreness and speed exercise recovery...
Lee Labrada: Exactly. Our Sorenzyme product is an enzyme product that is tremendously beneficial. But the enzymes in Sorenzyme do differ from regular digestive enzymes because they are enzymes that work on a systemic level and address the issue of DOMS.
DOMS affects so many people, and I would say that more than half of bodybuilders are in a constantly over-trained state. And, that's the reason that they can't make any more progress – they are training too hard and too often.
Obviously, one of the things you can do is to back off on the volume of training to allow your natural recovery processes to take its course. Or, you can do things to speed up the recovery process. One of the things that we have been finding from our research is that judicious use of enzymes can actually reduce the inflammation associated with DOMS, which increases recovery and therefore increase muscle growth. It's tremendous.
You know, enzymes to a work by the same pathway as anabolic steroids, but they are similar to anabolic steroids in that they do speed up the recovery process.