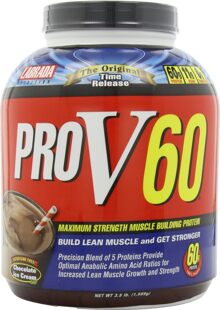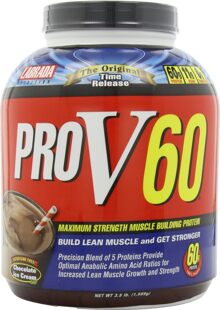 ProV60
Maximum Strength Protein Blend
ProV60 is a precision blend of 5 proteins that provide optimal anabolic amino acid ratios for increased lean muscle growth and strength!*
60g Protein Per Serving
Low in Carbs and Sugar
Excellent Time-Release Formula
TELL ME MORE
You may be resting at night, but your muscles aren't.
They're in repair-mode from your vigorous workouts, and shouldn't be ignored. Just as you make it a routine to consume adequate amounts of protein every couple hours during the day, your body needs a steady supply of protein at night. That's where ProV 60 comes it. By taking ProV 60 before bed, you can ensure your muscles are never left on empty during the night. As you sleep, they'll get a slow, steady stream of superior protein blends so you can start the next day right where you left off – building muscle!
Of course, ProV 60 is just as powerful during the day.
Its unique protein matrix never fails to provide nutritional support to your hard-working muscles. Because it's low in sugar, you can still maintain your low-carb diet in a quest for more definition. ProV 60 mixes instantly without a blender, and delivers amazing taste that's hard to beat.
BUILD LEAN • MUSCLE GET STRONG
60g PROTEIN
11g BCAAs
0g
TRANS-FAT
WHAT'S IN IT?
ProV60

contains precise combinations of slow, intermediate, and fast digesting proteins for maximum quality and all day muscle protein synthesis, reducing muscle protein breakdown, and helping speed recovery time after a workout.*

ProV60

contains an advanced, precision blend of micro-ultrafiltered whey protein isolate, ion exchanged whey protein isolate, micro-ultrafiltered whey protein concentrate, agglomerated egg albumin, and long acting casein.

ProV60's

amino acid profile is unsurpassed for building lean muscle and is high in critical branch-chain amino acids and glutamine.*