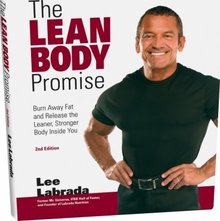 Labrada Lean Body Promise Book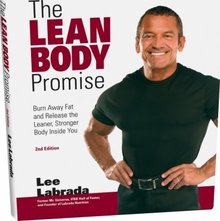 Labrada Lean Body Promise Book
Switch Your Body To "Fat-Burning" Mode!
THE LEAN BODY PROMISE
By:Lee Labrada
Tell Me About It!
Lee Labrada releases the new and revised Lean Body Promise 2nd Edition:
A "Mr. Universe" title winner and IFBB Pro Bodybuilding Hall of Famer outlines a fitness program that can be accomplished in as little as twelve weeks, drawing on the author's experience as the head of Labrada Nutrition to present a series of workouts and a metabolism-bolstering diet.
The Lean Body Promise holds the ultimate fat-burning solution that will help you release the lean, strong body inside you. In just 30 minutes a day, in as few as 12 weeks, Lee Labrada will show you how to make profound, lifelong changes in your body.
TELL ME MORE!
Maximize fat loss, strengthen your heart and lungs, and build muscle.*
Enjoy more delicious foods while at the same time burning more fat.*
Switch your body from "fat-storing" to "fat-burning" mode.*
Measure your physical progress easily and accurately, and stay motivated.
Be informed while getting inspired!
SUCCESS STORIES
WHAT'S INSIDE?
Part One:

The Promise


Lee discusses how he helped Houston - TX shed the title of "America's fattest city", the birth of the Lean Body Promise!, and the 30 year path from professional bodybuilding to what his goals are for helping you.
Part Two:

The Inspiration


Meet the people who took Lee's challenge, read their stories, and see how they found their "inner lean body."
Part Three:

The Motivation


Lee hands you the 5 keys to motivating yourself anytime, anywhere.
Part Four:

The Meal Plan


Forget everything you know about eating. Lee will help show you a new path that balances nutrition with exercise.
Part Five:

The Workout


Guess what: it's not going to be anywhere near as tough as you might imagine. Lee discusses and demonstrates everything from lifting weights, to cardio, to balancing exercise with nutrition.
Part Size: Putting It All together
The final part of your training involves taking nine simple steps to put it all together, and implementing your Lean Body Promise!
Part Seven: LEAN BODY FAQ's
You've got questions, Lee has the answers.
RECIPES