Quick Links to Best Prices
4 Servings
(Buy 1 Get 1 FREE) Price History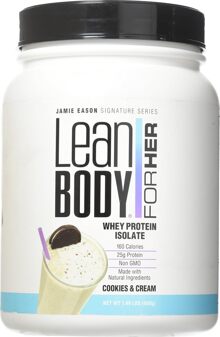 Labrada Jamie Eason Signature Series Whey Protein Isolate
Made With
Natural
Ingredients
Lean Body For her
100% Whey Protein
"As a cover model and creator of the LiveFit Trainer, I have helped hundreds of thousands of women reach their fitness goals. Healthy, natural nutrition plays a major part in whether you are successful getting leaner, healthier and more toned.
That's why I teamed up with LABRADA NUTRITION, the most trusted name in sports nutrition, to develop my signature line of LEAN BODY FOR HER Natural nutritional supplements for women.
My 100% Whey Protein shake not only tastes incredibly delicious, it's made with wholesome, natural ingredients. My philosophy is to keep it simple, as natural as possible, and delicious. Use LEAN BODY FOR HER 100% whey protein as an excellent source of highly bio-available protein to repair and build lean muscle, support your immune system, and enjoy greater health." -Jamie Eason
Try Both Delicious Flavors
What makes Jamie's 100% Whey Protein the best?
Creamy Delicious Taste
Zero artificial flavors, artificial colors, preservatives or artificial sweeteners
Gluten-Free
25 grams of high-quality protein
Just 3 grams of fat
30 Day Supply
Resealable Eco-Friendly Bag
Zero
Artificial Flavors,
Colors or Sweeteners
Most fitness enthusiasts will agree that a high quality protein powder is a staple in their diet. Jamie has supplemented her diet with protein powder for years and this has contributed greatly to her ability to stay in great shape year round.
Although staying in great shape takes consistency and commitment to exercise, it also takes proper nutrition to serve as fuel to reach your goals. So, after a rigorous workout when your muscles are starved for sustenance to help them repair and grow, they'll get the nourishment they need. Jamie Eason's 100% Whey Protein will help ensure that you have the protein you'll need for muscle recovery – fast – to help maximize the results of your workouts.*
When is the best time to drink the shake?
Not only is whey protein a great post workout, it's also perfect to use throughout the day to stabilize blood sugar and suppress food cravings. Whey protein helps you to stay fuller longer, so it satisfies your appetite.
You'll see we've got nothing to hide – no filler ingredients, no artificial flavors, and no artificial sweeteners. (Keep in mind, some protein supplements contain just 30% to 40% of whey protein, and high amounts of lactose, fat, and lower-grade proteins). We've even ensured that it is gluten-free and is a clean source of fuel for the body with excellent bioavailability (rate of absorption). Leann Body for Her is devoid of saturated fats and empty carbohydrates, so your body only gets what it needs.
Q
Why was it important to develop your own 100% whey protein isolate?
A
With my years of experience in fitness I have had the opportunity to try many different products on the market. And, although there are protein powders out there that are made with natural ingredients, nothing had the combination of ingredients and flavors that I was happy with so that is why I teamed up with Labrada, whose products always taste great, to make my own.
Q
Why was it important for you to make this formula gluten and lactose-free?
A
While food and supplement manufacturers are getting better and better at providing more gluten-free and lactose-free options, it can still be a struggle to find these options. Not only are these products in shorter supply, but they're typically priced ridiculously high.
With our new Lean Body for Her 100% Whey Protein, we wanted to ensure that every woman could enjoy a premium-quality, delicious protein shake at a reasonable price.
"Jamie Eason is a fitness icon that is loved and respected by legions of female fans and followers. Jamie is passionate about helping women get into shape and mirrors our company's values. I cannot think of a better ambassador that we'd want to partner with for our new line of women's natural nutritional supplements. Jamie's products are natural, great tasting and deliver results."