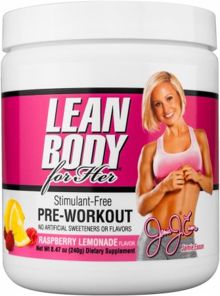 Labrada Jamie Eason Signature Series Stimulant Free Pre-Workout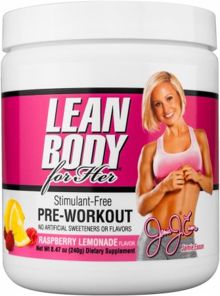 Labrada Jamie Eason Signature Series Stimulant Free Pre-Workout
LEAN BODY FOR HER
Stimulant-Free Pre-Workout
"If you're like me, you have days when you have so much energy that you're ready to conquer the world, and then other days where you're just feeling a little off and need help to power through your workouts.
My new Jamie Eason LEAN BODY for Her Pre-Workout supplement is STIMULANT FREE, so that you'll gain ENERGY without worrying about harsh stimulants that can cause stress and sleeplessness.*
Take just one scoop of the LEAN BODY for Her Pre-Workout formula 30 minutes before exercise and it will give you the mental and physical boost you need to ENERGIZE your workouts.*
This Pre-Workout formula contains EFFECTIVE amounts of ingredients shown to improve mental focus, energy and performance.* The amounts are listed clearly on the label, never in a "proprietary blend" so that you will know exactly what you are getting." – Jamie Eason
TELL ME ABOUT IT
Active ingredients in each 8 gram serving of Jamie Eason Lean Body for Her Pre-Workout include:
NO3-T Citrulline Nitrate to improveblood flow to exercising muscles.*
L-Tyrosine, Choline & Vitamin B12 for greater mental alertness and enhanced focus.*
Taurine for improved cardiovascular function.*
STIMULANT FREE
NO ARTIFICIAL SWEETENERS
NO ARTIFICIAL FLAVORS
NO ARTIFICIAL COLORS
FLAVORS
HOW DO I TAKE IT?
Suggested Use: Mix one scoop with 8 oz. ofwater and drink 30 minutes before training. Do not exceed recommended amount.
SUPPLY
Each bottle of LEAN BODY for Her Pre-Workout supplement contains enough to power you through 30 workouts. Each scoop is 8 grams, and gives you the effective amount of ingredients you'll need to achieve your goals!
"Jamie Eason is a fitness icon that is loved and respected by legions of female fans and followers. Jamie is passionate about helping women get into shape and mirrors our company's values. I cannot think of a better ambassador that we'd want to partner with for our new line of women's natural nutritional supplements. Jamie's products are natural, great tasting and deliver results."