Quick Links to Best Prices Price History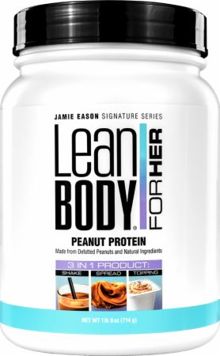 Labrada Jamie Eason Signature Series Peanut Protein
Lean Body For her
Multi-purpose PEANUT PROTEIN
"As a cover model and creator of the LiveFit Trainer, I have helped hundreds of thousands of women reach their fitness goals. Healthy, natural nutrition plays a major part in whether you are successful getting leaner, healthier and more toned.
My Multi-Purpose Peanut Protein is made with only wholesome, natural ingredients. My philosophy is to Keep it simple, as natural as possible, and delicious. Use my Peanut Protein as an excellent source of vegetarian-friendly protein to support lean muscle, and promote great health."* - Jamie Eason
What makes Jamie's Peanut Protein the best?
3 in 1 Product - Delicious and Versatile
Sweetened with Monk Fruit and Stevia
Vegetarian Friendly
Gluten and Lactose Free
No Artificial: Colors, Flavors, or Sweeteners
Preservative Free
Jamie Eason's LEAN BODY for Her Multi-purpose Peanut Protein is wonderfully delicious and is very versatile.
Peanut Protein can be mixed with water or skim milk to make a healthy, mouth-watering peanut butter protein shake
It can also be easily mixed with water to make a creamy peanut butter spread.
Finally, you can use it as a topping to add to yogurt, oatmeal or your favorite snack.
Q
What is Peanut Protein Powder?
A
Peanut Protein Powder is a multi-purpose protein drink mix, made exclusively from peanuts. Unlike other peanut butter protein drinks on the market, which tend to be flavored whey or casein, this protein contains only peanuts, natural flavors and natural sweeteners, making it both lactose free and gluten free, as well as vegetarian friendly.
Q
What is the benefit of peanut protein and how is it multi-purpose?
A
Peanut butter flavors are always top sellers in the protein bar and cookie market. As a shake, peanut butter tends to be a favorite as well. While we could have easily formulated a great tasting peanut butter flavored whey protein, our goal was to be the first to offer a peanut protein powder, made exclusively from peanuts and natural ingredients that tastes incredible, has multiple uses and could benefit most any consumer. With Jamie Eason's Peanut Protein Powder, we are excited to off a product that can be used as a spread, a topping, or a shake that will give you all of the protein you need with less of the fat.
Q
What is the best way to use the 3-in-1-powder?
A
While the peanut protein powder was originally formulated with a shake in mind and as a meal replacement, it proves to mix equally well in smaller portions as a spread or a topping and even works well for cooking and baking. With our great tasting 3-n-1 Peanut Protein, you'll get the natural peanut flavor that you want, with less fat and often less calories. When it comes to applications how you choose to eat or drink your peanut powder; the only limit is your imagination.
Q
Is Jamie Eason's Peanut Protein vegetarian friendly?
A
Yes, it's made with natural ingredients such as defatted peanut protein, monk fruit, organic cane sugar, and stevia. There is a trace amount of milk flavor present in one of the natural flavors used, but it's completely lactose free, gluten free, and vegetarian friendly.
"Jamie Eason is a fitness icon that is loved and respected by legions of female fans and followers. Jamie is passionate about helping women get into shape and mirrors our company's values. I cannot think of a better ambassador that we'd want to partner with for our new line of women's natural nutritional supplements. Jamie's products are natural, great tasting and deliver results."