Quick Links to Best Prices Price History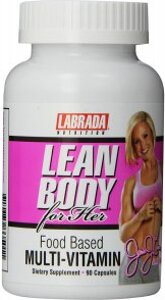 Labrada Jamie Eason Signature Series Multi-Vitamin
Jamie Eason Signature Series
MULTIVITAMIN
"As a former champion figure competitor and creator of the LiveFit Trainer, I have helped hundreds of thousands of women reach their fitness goals. Healthy, natural nutrition plays a major part in whether you are successful getting leaner, healthier and more toned. That's why I teamed up with Labrada Nutrition, the most trusted name in sports nutrition, to develop my signature line of Natural nutritional supplements for women.
A woman needs a multi-vitamin that's designed specifically for her – with key "female-friendly" ingredients such as iron, which many women do not consume enough of, calcium and Vitamin D for bone health, and folic acid (folate) which helps make healthy new cells and helps maintain blood health.*
Food Based Multi-Vitamin not only contains all of the aforementioned, but it contains a Woman's Nourishing Blend with herbs used for thousands of years to help support the immune system and energy.* It also contains a Veggie Juice Complex and Complete Digestive Support, which means it's derived from natural ingredients and gentle on the stomach." – Jamie Eason
What makes Jamie's MULTIVITAMIN the best?
Specifically formulated for women
100% Natural Food Based
Gentle on the stomach
Just two small capsules per day
Veggie complex with digestive support*
According to research from the Boston Medical Center, an estimated 45 million Americans go on a diet each year. Though dieting can lead to weight loss, it can often lead to vitamin deficiencies. Those in pursuit of a trimmer waist line will often cut calories and in doing so, sacrifice nutrition.
Dieters are not the only ones with the potential to end up with deficiencies. Anyone not eating a wide variety of fruits, vegetables, grains and lean protein on a daily basis can as well. Perhaps you're on a special diet, have allergies, consume too many processed foods or you're just a picky eater?
In any of these scenarios supplementing your diet with a multi-vitamin would be ideal. For fitness professional Jamie Eason, creating a Food Based Multi-Vitamin was a no-brainer for her active lifestyle. With the stress that exercise can put on the body and the pressure of everyday life, it's the perfect way to ensure that your diet is balanced and healthy.
Q
What exactly is a "food based" multi-vitamin?
A
A food-based multi-vitamin is a supplement that combines vitamins with powdered whole foods, rather than using synthetic ingredients.
They are essentially pulverized fruits, and vegetables plus vitamins and other food ingredients, condensed into easy-to-take capsules. Food-based vitamins are typically easier to digest than synthesized vitamins.
Q
What about some of the "big name" vitamin companies. How do their products compare?
A
Some mass-produced vitamins, while effective, contain artificial ingredients which can potentially upset your stomach. Food Based Multi-Vitamin is a natural product, free of artificial colors, flavorings, and preservatives. There is no sugar, lactose, gluten, wheat, or allergenic yeasts and therefore, should be the perfect option for supporting your healthy lifestyle.
"Jamie Eason is a fitness icon that is loved and respected by legions of female fans and followers. Jamie is passionate about helping women get into shape and mirrors our company's values. I cannot think of a better ambassador that we'd want to partner with for our new line of women's natural nutritional supplements. Jamie's products are natural, great tasting and deliver results."