Quick Links to Best Prices Price History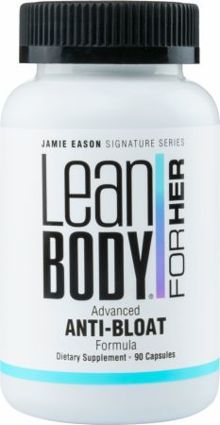 Labrada Jamie Eason Signature Series Anti-Bloat
Lean Body For her
Advanced ANTI-BLOAT Formula*
"As a former champion figure competitor and creator of the LiveFit Trainer, I have helped hundreds of thousands of women reach their fitness goals. Healthy, natural nutrition plays a major part in whether you are successful getting leaner, healthier and more toned. That's why I teamed up with Labrada Nutrition, the most trusted name in sports nutrition, to develop my signature line of Natural nutritional supplements for women.
When I was first contemplating a nutrition line, a product to help reduce bloat was certainly at the top of my wish list. There have been so many occasions, whether it be a photo shoot, a competition or even my own wedding, where all I could do was hope and pray that I wouldn't be retaining water on my big day. Not to mention, it's perfect for any time you want to reduce belly bloat and slip into that tight top or dress.
With the Advanced Anti-Bloat Formula and its ability to gently flush toxins and excess water out of my system, I could finally have the peace of mind knowing that I would wake up looking and feeling my best."* – Jamie Eason
What makes Jamie's ANTI-BLOAT the best?
Helps reduce excess water weight*
Acts as a natural cleansing formula*
Supports weight loss*
Helps you feel more energized*
Contains a powerful blend of Triphala, Dandelion Root, and Ginger Root
Easy on your system*
No synthetic "mystery" ingredients
Looking good, feeling great!
With just minutes before walking out the door, you take one last look in the mirror and give yourself an affirming nod. Your makeup looks great, your hair looks great and your clothes fit perfectly. If only we could feel like this before every big event. While we can't do your makeup or guarantee a great hair day, we can offer encouragement that your clothes will fit their best thanks to Jamie Eason's Advanced Anti-Bloat Formula.*
Advanced Anti-Bloat Formula is made with all-natural ingredients. Meet Triphala, one of the main ingredient blends in the Advanced Anti-Bloat Formula. A mild cleansing agent, Triphala is easy on your system, but powerful enough to help remove the impurities that can slow you down and make you feel bloated.*
Triphala, which literally means "three fruits," is an ancient herb consisting of three Indian medicinal plants – Amla, Bibhitaki, and Haritak. The fruits are dried, ground into powder and combined in a method developed by ancient Ayurvedic herbalists. While each of these super-fruits are effective on their own, research suggests that they are that much more powerful when combined.
With a powerful blend of Triphala, Dandelion Root and Ginger Root Powder, you have everything you need without the synthetic "mystery" ingredients that you don't. Together, along with your body's natural cleansing processes, they help to cleanse, shed excess water weight and support weight loss.*
Q
Can I use Anti-Bloat every day, because I always feel bloated?
A
Yes, it is safe to take Advanced Anti-Bloat Formula every day, or as needed, but you should not feel bloated for prolonged periods of time once you've improved your diet and begin losing weight.
If bloating persists, you should check with your doctor to make sure there aren't any hormonal imbalances or other issues that may need addressing.
Q
Can Anti-Bloat actually help me lose weight?
A
Yes. While results may vary, Anti-Bloat Formula, with a nutrition and exercise plan, can increase weight loss potential. It actually works better than typical fat burners that claim weight loss by thermogenesis (increased body temperature) because it helps rid the body of excess impurities; allowing it to work more efficiently.*
Weight loss is often a healthy side effect of cleansing our systems. Although the same can be achieved with juicing (which is certainly a healthy approach), it can take many days of juicing to achieve the same thing.*
"Jamie Eason is a fitness icon that is loved and respected by legions of female fans and followers. Jamie is passionate about helping women get into shape and mirrors our company's values. I cannot think of a better ambassador that we'd want to partner with for our new line of women's natural nutritional supplements. Jamie's products are natural, great tasting and deliver results."