Quick Links to Best Prices Price History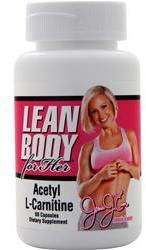 Labrada Jamie Eason Signature Series Acetyl L-Carnitine
LEAN BODY FOR HER

Acetyl L-Carnitine
"As a former champion figure competitor and creator of the LiveFit Trainer, I have helped hundreds of thousands of women reach their fitness goals. Healthy, natural nutrition plays a major part in whetheryou are successful getting leaner, healthier and more toned. That'swhy I teamed up with LABRADA NUTRITION, the most trusted name in sports nutrition, to develop my signature line of LEAN BODY for Her Natural nutritional supplements for women."
TELL ME ABOUT IT
Supports healthy mental performance and function*.
Helps with fatty acid transport into the mitochondriaof the cell to be burned as fuel*.
Amino acid that supports cellular energy productionby assisting in the transport of fat*.
HOW DO I TAKE IT?
Take 2 capsules with water. Do not exceed recommended serving.
SUPPLY
Each bottle of LEAN BODY for Her Acetyl L-Carnitine contains 60 easy-to-take capsules. Each bottle works out to be a 30 servings making it a one month supply.
"Jamie Eason is a fitness icon that is loved and respected by legions of female fans and followers. Jamie is passionate about helping women get into shape and mirrors our company's values. I cannot think of a better ambassador that we'd want to partner with for our new line of women's natural nutritional supplements. Jamie's products are natural, great tasting and deliver results."