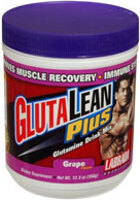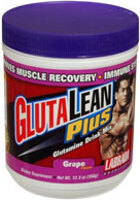 Labrada GlutaLean Features:
Improves Muscle Recovery
Immune System Booster
Increase Protein Synthesis
Great Taste! Comes in Grape & Fruit Punch
GlutaLean Plus Glutamine Drink Mix contains only pure Ajinomoto brand pharmaceutical grade L-Glutamine plus glutamine peptides. Glutamine is an amino acid that accounts for approximately 60% of all free amino acids in the body. Muscle Tissue contains especially high concentrations of glutamine.*
Supplemental glutamine can help prevent muscle tissue breakdown, increase protein synthesis, increase glycogen storage (energy stores) in muscle, and supports healthy immune function.*
Now, get the extra glutamine you need in one delicious drink!