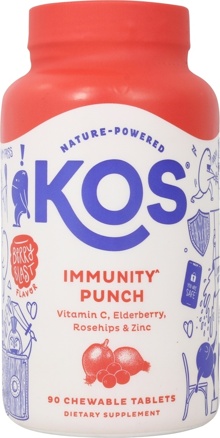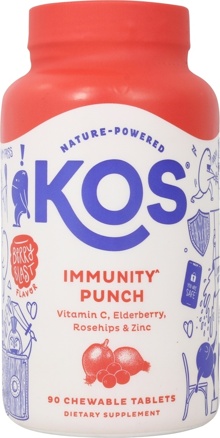 KOS - Immunity Punch Berry Blast - 90 Chewable Tablets
Lion's Mane has long been a versatile healing fungi in Traditional Chinese Medicine. Currently, it's the object of extensive research in modern labs.
Lion's Mane mushrooms are powerful adaptogens being researched for their ability to protect the brain and nervous system.A study published in the Journal of Agricultural and Food Chemistry lists this fungus' benefits as "antibiotic, anticarcinogenic, antidiabetic, anti-fatigue, antihypertensive, antihyperlipidemic, anti-senescence, anti-anxiety, anti-depression, cardioprotective, hepatoprotective, nephroprotective, neuroprotective and cognition enhancing." Talk about King of the Jungle. This Lion wears a mighty Mane!
A Lion's Mane for a Better Brain
A well researched aspect of Lion's Mane is its impact on brain cells and related functions. A study in the International Journal of Medicinal Mushrooms showed that it stimulated "neurite outgrowth" which might protect against cognitive decline.
Neuroprotective Properties
Lion's Mane shows promise for neuroprotection. Two of its compounds, hericenones and erinacines, are known to help stimulate brain cell growth. In animal studies, it has also shown potential to help with serious neurodegenerative diseases.
Nerve Growth Factory
Lion's Mane stimulates nerve growth factor (NGF) synthesis. NGF is a protein in the brain that helps to maintain as well as regenerate neurons. Researchers are hopeful that Lion's Mane can mitigate the cellular damage of neurodegenerative disorders.
Moody Blues Breaker
Lion's Mane may improve functioning of the hippocampus by stimulating brain cell growth. A 2018 Korean study concluded: "Lion's Mane can exert anxiolytic and antidepressant-like effects, possibly by enhancing adult hippocampal neurogenesis."

Supports Brain Function
Lion's Mane shows great promise as an all-natural brain booster. Preliminary research indicates it can play a role in improved brain function, mitigate memory loss and enhance cognitive abilities.
Suppresses Oxidative Damage
Some research suggests that Lion's Mane may encourage nerve cells to grow and repair more quickly due to compounds called hericenones and erinacines known to stimulate brain cell growth and function.
Nerve Protective Properties
Nerve Growth Factor (NGF) is a bioprotein critical to the health of neurons. Lion's Mane may stimulate its production, possibly improving mental capacity and delaying degenerative brain diseases.