Quick Links to Best Prices Price History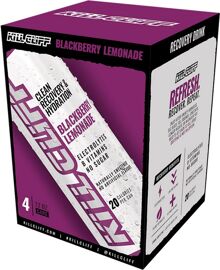 Kill Cliff The Recovery Drink
Kill Cliff
Find Your Edge and keep it
Epic Taste and functionality in everything we make
Berry Legit
(Blackberry Lemonade)
There's legit… and then there's Berry Legit. Let's compare. It took your grandma decades of practice to become that sweet, but the Berry Legit recovery drink was born naturally sweetened. And at sugar-free & 20 calories per can, Kill Cliff Berry Legit won't have you unbuckling your belt after finishing off a whole plate of its lemonade & blackberry mixtape of magnificence. It's the family gathering you actually want to go to. It's the birthday card that fills up with more cash as you get older.It's the berry recovery drink you choose after crushing another year of those 365 history rewriting days you call your life.
DOUBLE AWESOMENESS
(Pomegranate Punch)
We've captured the Flavor of America with the Official Drink of Freedom. Double Awesomeness is now packed with DOUBLE AMERICANNESS. Still naturally sweetened, we've upgraded the flavor to a Pomegranate Punch (it hurts so good!) clocking in at only 15 calories. It's bald eagle approved and dressed up to get down in a red, white and blue camo can. If you choose to accept mission deliciousness, you're in for a good ol' U-S-of-A lip-licking good time. Know that when you crack open a can of DOUBLE AMERICANNESS, you're not just doing it for you — you're doing it for your (flavor) country.
Tasty
(Blood Orange)
If scent is the strongest sense tied to memory, our blood orange recovery drink masterpiece is going to repave your memory lane with bricks of bright orange. Long hailed as the best smelling drink in America, Tasty isn't just a model of sweet aroma and no substance. We've engineered this bodacious badass to be a 12oz. sugar-free, 15 calorie refreshing experience packed to the tab with vitamins, enzymes and micronutrients. Try it for yourself with no regrets guaranteed.
Free Fall
(Lemon Lime)
Meet the new tool in your arsenal of awesomeness. Free Fall Camo is the recovery drink you strap onto your chest when skydiving into the Amazon of Amazingness. It's secretly a map to every party you've ever wanted to be invited to (feel free to name drop us like a bomb when you get there). It's lightweight at only 15 calories. It's naturally sweeter than everyone you've ever dated. It's your new best friend in the recovery battle. WARNING: may disappear when you set it down in front of your friends.