Quick Links to Our Prices Price History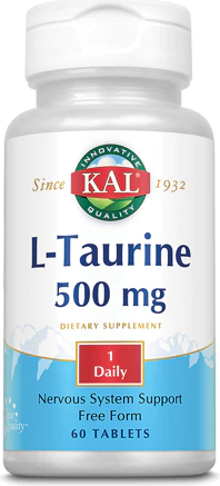 Taurine is an amino acid that is produced via L-cysteine metabolism and is the primary intracellular amino acid found in humans and other species of animals. Especially high concentrations of Taurine are found in the brain, retine, myocardium, muscle, platelets, and neutrophils. It is considered a conditionally essential amino acid because it is required in the diet of infants for normal retinal and brain development.

Funny enough, research on benefits of Taurine for humans was not a priority until it was found that it was an essential nutrient for cats. Cats suffering from Taurine deficiency experience a number of abnormalities including retinal degeneration, dilated cardiomyopath, and platelet function abnormalities. Following the discovery of the effects of Taurine deficiency in cats, it was also observed that infants fed baby formula lacking proper amounts of Taurine had lower plasma levels than infants who were breast fed. Taurine is now a common additive found in most infant formulas.

Taurine is used to help absorb fats and fat-soluble vitamins as well as to regulate the heart beat, maintain cell membrane stability, and prevent brain cell over-activity. It is also believed to be useful in protecting against congestive heart failure.

Taurine possesses antioxidant activity and offers putative hypocholesterolemic, hypotensive, antiatherogenic, and detoxifying activities. Some researchers report that Taurine may offer assistance to those with cystic fibrosis as it exhibits steatorrhea-reducing activity and has putative antidiabetic, inotropic, and antiseizure activities. In fact, some clinical trials have shown that cystic fibrosis patients receiving Taurine supplements experience a decrease in steatorrhea. It is believed that Taurine stimulates the production of bile acid resulting in increased fat absorption which leads to decreased steatorrhea.

Supplement Facts:

Serving Size: 1 Tablet
Servings Per Container: 60

Amount Per Serving:
Total Carbohydrate 1 g 1%
Dietary Fiber 1 g 3%
L-Taurine 500 mg

Other Ingredients: Cellulose, Stearic Acid, Silica and Magnesium Stearate.

Directions: As a dietary supplement, take 1 RapidSolv tablet up to 4 times daily with a glass of water.

Disclaimer: Manufacturers continually change product specifications. While we try our best to keep product descriptions up to date, they do not necessarily reflect the latest information available from the manufacturer. We are not responsible for incorrect or outdated product descriptions and/or images.

These statements have not been evaluated by the Food and Drug Administration. This product is not intended to diagnose, treat, cure, or prevent any disease.