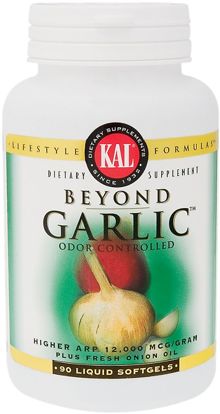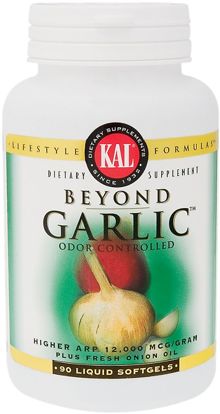 For many decades, people have been using Garlic and Garlic based supplements to prevent a myriad of health conditions including atherosclerosis, high blood pressure, flu, colds, coughs, bronchitis, gastrointestinal problems, and menstrual pain. Studies have shown that Garlic can kill many types of bacteria, some viruses, a number of fungal infections, and in some cases even intestinal parasites. Additionally, Garlic is also considered an effective antioxidant that can boost the body's immune system and may even help prevent certain cancers such as colon cancer.

However, Garlic is best known for its favorable effects on cardiovascular health. Garlic is believed to be effective in preventing and treating high cholesterol and triglyceride levels, atherosclerosis, and respiratory infections. One study reported that Garlic was able to reduced arterial plaque formation by nearly 20 in some participlants, the benefits being most notable in women.

Supplement Facts:

Serving Size: 1 Softgel
Servings Per Container: 60

Amount Per Serving:
Fresh Garlic Oil Macarate (Supplying E and Z-Ajoenes, Dithins and Diallyl Sulfides) 125 mg
Pure-Gar Stabilized High AllicinYield Garlic Powder (Supplying Allicin Releasing Potential of 5,400 mcg [12,000 mcg/g]) 450 mg
Fresh Onion Oil 50 mg
Zinc (as Zinc Oxide) 4.37 mg 29%

Other Ingredients: Gelatin (softgel), canola oil, glycerin, lecithin, beeswax, enteric coating.

Directions: As a dietary supplement, take 1 Enteric Coated Liquid Softgel daily, preferably with dinner or at bedtime. Store in a cool,dry place after opening. Keep refrigerated to prolong shelf life of active components.

These statements have not been evaluated by the Food and Drug Administration. This product is not intended to diagnose, treat, cure, or prevent any disease.