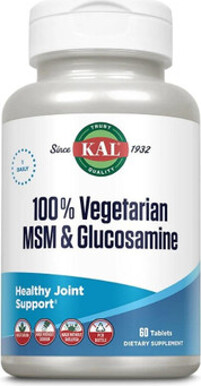 KAL 100% Vegetarian MSM & Glucosamine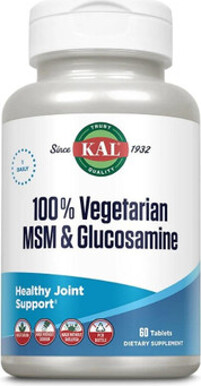 KAL 100% Vegetarian MSM & Glucosamine
Kal - MSM & Glucosamine 100% Vegetarian - 60 Tablets
Vegetarian MSM & Glucosamine to Improve Joint Health for AnyoneMSM and glucosamine are well-known dietary supplements that may help improve the mobility, comfort, and strength of joints. Relieving pain and stiffness, they can provide a real boost to quality of life, letting you get more active, stay fitter, and win back mobility again. However, glucosamine typically comes from shellfish, one of a handful of natural sources for this nutrient. That makes many conventional joint support supplements unusable by people with shellfish allergies, or who are vegetarian or vegan. KAL MSM & Glucosamine 100% Vegetarian tablets free you from that difficulty, enabling health benefits for the joints and other parts of the body with a vegetarian, allergen-free formula.
Eases Pain, Stiffness, & Swelling in the Joints
Improves Flexibility & Range of Motion in Major Joints
Soothes the Digestive Tract & Helps Against Leaky Gut Syndrome
Supports Better Heart Wellness & Blood Vessel Condition
May Support Healthier Skin & Fewer Dark Spots from Aging
100% Vegetarian Formula that Contains no Shellfish or Seafood
Derived from Fungal Fermentation
Made to High Quality Standards at a cGMP Facility
Eases Swelling, Pain, & Discomfort in the JointsKAL MSM & Glucosamine 100% Vegetarian tablets supply 500 mg of D-glucosamine hydrochloride and 500 mg of the complementary sulfur compound MSM in each tablet – all of it completely vegan. Easing pain in the joints and bones, even according to the Mayo Clinic and other prominent medical organizations, these supplementary nutrients offer anti-aging and anti-inflammatory action for the joints. They can potentially relieve joint pain, reduce swelling, and increase range of motion. The supplement may also aid in preventing further deterioration of the joints' condition, too.
Healthier Digestion from Anti-Inflammatory MSMMSM and glucosamine like those found in KAL MSM & Glucosamine 100% Vegetarian tablets are thought to have wellness benefits beyond improving the comfort and mobility of joints. Their anti-inflammatory effects also help to soothe the gastrointestinal tract, reducing irritation there caused by many different factors. The compounds may assist the body in repairing the lining of the gut. They also provide better digestion overall, and possibly support a reduction in leaky gut syndrome.
Skin, Veins, & Heart may All Benefit from KAL MSM & GlucosamineKeeping your body's collagen and connective tissue supple and healthy, KAL MSM & Glucosamine 100% Vegetarian tablets may also improve cardiovascular health. It is thought to possibly reduce the risk of calcium imbalances in the heart. Its anti-inflammatory effects can also benefit the condition of blood vessels, including the arteries. There's some evidence to suggest it also improves the hydration and elasticity of the skin, fighting back against aging and wrinkling, along with blocking the melatonin that can cause dark spots to form over time.
How is Vegetarian Glucosamine Made? KAL MSM & Glucosamine 100% Vegetarian tablets stand apart from other joint supplements because they're made with vegan glucosamine. The supplements contain zero shellfish byproducts, making them perfectly suited to vegan or vegetarian lifestyles. They're also safe for people with allergic reactions to shellfish or seafood. KAL uses a unique, special process that generates nature-based glucosamine through fungal fermentation, bypassing animal sources entirely.
KAL's Great Experience in Supplements assures Quality & EffectivenessThe innovative, revolutionary approach of KAL in making vegan KAL MSM & Glucosamine 100% Vegetarian tablets matches the company's mission and practices since its founding. Started in 1932, it has led the way in several important nutritional supplement developments, including being the first to blend vitamins and minerals into a single formula. The vegetarian MSM and glucosamine tablets in this product are made at a cutting-edge cGMP compliant facility, using the latest technology to ensure maximum purity, cleanliness, and potency – thus offering you outstanding health benefits.
KAL 100% Vegetarian MSM & Glucosamine provides MSM, a source of organic sulfur, that is intended to provide nutrative support for healthy joint function and is critical to the production of connective tissue and cartilage. Organic sulfur works in many pathways in the body and is also important for proper bone, gastrointestinal, respiratory and metabolic functions. Glucosamine is intended to provide nutritive support for connective tissue by helping to keep collagen supple and healthy in the joints. This revolutionary shellfish-free Glucosamine is manufactured through a fungal fermentation process.
Kal Guarantees that NO ingredients other than those listed on this label have been added to this product. ActivTab technology guarantees tablet disintegration with 30 minutes accroding to USP standards.
MSM
What is it?
Methylsulfonylmethane (MSM) is a naturally occurring, organic, sulfur-containing compound related to another sulfur-containing substance, dimethyl sulfoxide (DMSO). MSM is found in small amounts throughout nature and has been detected in small amounts in the blood and urine of humans.1
Where is it found?
A precursor of MSM is formed initially by ocean plankton and released into the atmosphere, where it interacts with ozone and sunlight and returns to earth as MSM in rainfall. MSM can be taken up by plants and incorporated into their structure, but no measurement of the MSM content of foods has been done. Supplements containing MSM are available.

Glucosamine
What is it?
Glucosamine is a nutrient found in very small amounts in food, and is also made by the cartilage cells of the body. Its main function is the production of long chains of sugars called glucosaminoglycans, necessary to rebuild cartilage and other soft tissues.
Where is it from?
Glucosamine sulfate is a naturally occurring amino-monosacharide found in highly concentrated amounts in the joints of mammals. The body recognizes glucosamine as a natural substance, therefore it does not react to its presence in a negative way.
What is it used for?
The primary purpose of glucosamine is to stimulate the rebuilding of damaged cartilage, and to affect metabolism of cartilage in ways to prevent its breakdown. It also has some anti-inflammatory activity, but basically relieves pain, swelling, and tenderness by rebuilding stiff and eroded joint tissues. It may also help to protect cell membranes, especially in epithelial cells like those lining the digestive tract.
About KAL

Innovation is their tradition; the pursuit of quality is their passion. They believe that you cannot have a quality finished product unless you start with the finest raw materials.
KAL products are manufactured according to Good Manufacturing Practices (GMPs). Their products must pass disintegration testing and finished product testing before Kal can be satisfied that they are "good enough for their own families."
The KAL brand was established in Southern California in 1932 as one of the first nutritional supplement lines in the United States. Although its first products were in powdered form, the KAL brand soon shifted its focus to tablets and tasteables. The KAL brand offers more than 500 innovative products in chewables, gummies, tablets, softgels, liquids, powders, and topical creams.