Warning: This product is not currently available at any store.
Click the button above and PricePlow will email you when the first store has it in stock!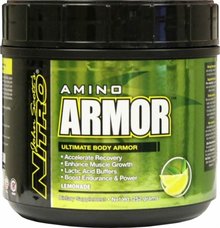 John Scott's Nitro Amino Armor Powder
Amino Armor™ goes way beyond a simple amino blend. Its unified design preserves your hard-earned muscle with four critical phases of amino-built armor.* Taken pre-workout, Amino Armor acts as a powerful anti-catabolic agent and helps supercharge your endurance without consuming extra calories, helping you to train harder, boost your power, get leaner and push your muscle growth into overdrive!* Amino Armor is ideal to use when dieting and restricting calorie intake.
4-Phase Anticatabolic Muscle Shield*
Optimize Muscle Nitrogen*
Support Exercise Growth Response*
Boost Endurance and Power*
Four Phase Muscle Shield:
Phase I Armor: Muscle Fuel*
Cutting edge anti-catabolic compounds, pH buffering agents, and muscle fuel substrates, which help support endurance.*
Phase II Armor: BCAA Support*
Studies surmise BCAA's provide powerful, anti-catabolic muscle preservation by sparing glycogen because the muscles use them intensely during exercise as fuel.* BCAA's are also powerful anabolic triggers.* They are critical to maintaining optimal muscle nitrogen balance.*
Phase III Armor: Muscle Growth Complex*
Provides essential aminos that are drained by exercise which your body needs to support positive nitrogen balance and synthesize new muscle growth.*
Phase IV Armor: GH Releasers*
Scientifically supported, natural growth hormone secretagogues that are bio-synchronized for optimum muscle growth.*
Amino Armor™ Stacking Option:
For greater endurance, mix withGlycoCharge™.* For faster growth and recovery, useCell Drive immediately after training andGH before bed.*