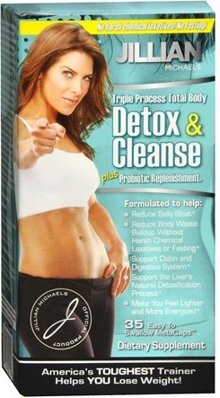 Jillian Michaels Detox & Cleanse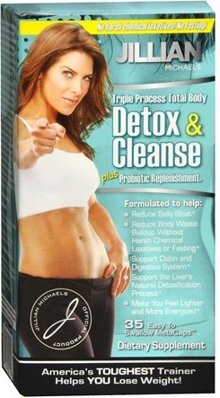 Jillian Michaels Detox & Cleanse
UPC: 851659002125
Total Weight: 0.37 lbs (0.17 kg)
Package Format: 35 MetaCaps



Jillian Michaels Triple Process Total Body Detox & Cleanse Plus Probiotic Replenishment is a great way to reduce belly bloat, reduce body waste buildup, support your colon and digestive system, help support the liver's natural detoxification process, and help you feel lighter and more energized. No harsh chemical laxatives, no fasting. Plus it includes a 7-day Probiotic Replenishment!

If you want to lose weight, let Jillian Michaels help! This is where you start to change your life, to get thinner, stronger, and healthier, shedding excess pounds by changing your eating and exercise habits, and finding the emotional support that will turn failure into success.

Jillian Michaels formulations can help you make it all possible!

Jillian Michaels Triple Process Total Body Detox & Cleanse is formulated to help:
Reduce Belly Bloat*
Reduce Body Waste Buildup Without Harsh Chemical Laxatives or Fasting*
Support Colon and Digestive System*
Support the Liver's Natural Detoxification Process*
Make You Feel Lighter and More Energized*


Warnings: This product contains Buckthorn and Chinese Rhubarb powder. Read and follow directions carefully. Do not use if you have or develop diarrhea, loose stools, or abdominal pain because Buckthorn and Chinese Rhubarb powder may worsen these conditions and be harmful to your health. Consult your physician if you have frequent diarrhea or if you are pregnant, nursing, taking medication, or have a medical condition. Not for use by individuals under the age of 18 years. Do not use if pregnant or nursing. Consult a physician or licensed, qualified health-care professional before using this product if you have diarrhea or gastrointestinal disease of any kind, including but not limited to ulcers, Crohn's disease, or diverticulitis, or if you are using any other dietary supplement, prescription drug, or over-the-counter drug to treat gastrointestinal disease or for cleansing purposes. Do not exceed recommended serving. Exceeding recommended serving may cause serious adverse health effects. Possible side effects include cramping, nausea, or frequent diarrhea. Reduce amount taken or discontinue use if you experience any of these symptoms. Keep out of reach of children. Use only as directed.

Notes: Use in conjunction with any sensible diet and exercise program.

Recommended Use: Take 2 MetaCaps of the Detox & Cleanse component with a full glass of water twice per day, in the morning and early evening, for 7 days. Do not exceed 4 MetaCaps per day. Following the 7-day detox/cleanse period, take 1 Probiotic MetaCap per day with a full glass of water for 7 days. This treatment may be repeated every 3 to 4 months as desired.

Disclaimer: Actual product packaging and materials may contain more and different information than what is shown on our website. We recommend that you do not rely solely on the information presented and that you always read labels, warnings, and directions before using or consuming a product. Please see our full disclaimer below.